---
Where To Stay In Maui
---
With over 18,00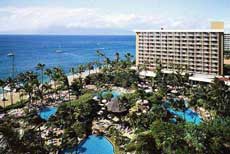 0 rooms in over 225 properties, The Valley Isle has accommodations to meet all walks of life, all needs, all occasions. There are fantastic mega-resorts, cozy Bed & Breakfasts, budget hotels and hostels, and resort condominiums to meet everyone's dreams of a Maui vacation. Most of the mega resorts are clustered in West Maui, near the towns of Kaanapali and Kapalua, though a few have taken hold in the South Maui resort of Wailea. Kihei is a booming resort condominium enterprise, with close to 100 condo complexes, while the North shore near Paia and the East shore near Hana are favorites for budget escapes and romantic getaways.
The high-end resorts typically offer anything your heart desires. From spas to wedding planners to glorious beaches, they are truly amazing. You can get waited on hand and foot, eat at world-class restaurants, and get a massage between trips to the swim-up bars. They also offer world-class prices in the range of $300/night. You can get discounts from third parties that make these prices more affordable by visiting a broker such as those listed on our Discounts & Bargains page.
For a more economical approach, try condominium rentals, which are plentiful in Maui, with over 9,000 units available. For in the neighborhood of $100/night, y
ou can rent an apartment with a full kitchen, bedrooms, balconies, and beaches, while many complexes such as the Outrigger chain, offer full resort amenities. Others, like the Worldmark at Kihei where we stayed, are your average everyday apartment complex, passed off as "resort" condominiums because they are in Maui. Although our unit was nicely furnished, and well-equipped with a balcony, we were disappointed because the "resort" was built in the style of a Pacific Northwest apartment complex, with no character native to the area, activities, restaurants (although a nearby restaurant provided expensive room service), beach, or any amenities (except a pool) that one would expect from anywhere that called itself a resort. Luckily we don't usually spend much time at the hotel.
Bed & Breakfasts also abound on Maui, spread all over the island, ranging from farmhouses to cottages to villas. For a truly budget approach to your vacation, hostels are available, primarily on the North Shore, and many smaller hotels offer rooms for under $100/night. For information on camping on Maui, visit our Camping on Maui page. Traveling in off-season will drop your rates sharply, as well.
The following websites are the official websites of the resorts themselves. I wouldn't recommend booking your reservation directly, as there deals to be had through a discount broker such as our personal choice, TravelNow!, or many others listed on our Discounts & Bargains page. However, they are valuable resources of information when comparing and doing some pre-trip research to see what suits your needs.
---
---
---
---
Discount Hotel Reservations
Official Hotel Sites
---
---
Vacation Rental Discount Reservations
Official Condominium Sites
Owner's Direct Maui Vacation Rentals
---
---
---
---
---