MAUI FISHING

Maui Travel Guide
Maui Accommodations
Maui Land Activities
Scuba Diving / Snorkeling
Maui Water Sports
HOT LINKS

---
Sportfishing on Maui
---
The fishing around Maui ranges from very good to excellent. Most of the fishing boats are berthed at La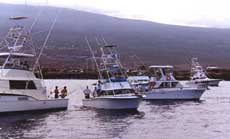 haina Harbor, while others are at Maalaea Harbor. The best times of the year for marlin are generally July thru September and January thru March (when the generally larger females arrive). August is the optimum month. Rough seas can keep boats in for a few days during December and early January, but by February all are generally out.
A private charter will set you back anywhere from $600-$1000 for 8 hours, while a shared vessel can be had for a mere $135-$185pp. For more information on fishing on Maui, check out the links in the table below. Before making any reservation, we recommend checking out our Discounts & Bargains page to save a bit of cash.
Ho'okela Sportfishing
Enjoy Maui sportfishing at its best as Capt. Kim and the crew of the Ho'okela put two generations worth of experience to work for you!
---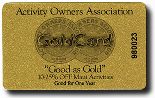 Save up to 25% off Maui Fishing, Activities, Restaurants, and Attractions with the AOA Gold Card
Click Here to see Discounts!

Save up to 50% off on Maui Fishing, Dining, Attractions, and Entertainment with the Hawaii Entertainment Book!
Click Here to see Discounts!


Save on Maui Fishing Trips with Maui's largest tour broker!

Your Hawaii Store!
Shop for Hawaiian food, gifts, music, clothing and much more!