---
Kiteboarding on Maui
---
The island of Maui, considered the Mecca for windsurfing, is quickly becoming the destination fo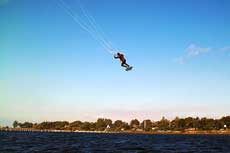 r beginning kiteboarders and is the proving ground for many of the world's best professionals in the sport. The venturi effect created by the gap between the West Maui Mountains (elev. 5788'-extinct volcano) and Haleakala (10023'- dormant volcano) results in a nearly year-round, side-onshore, 10-20 knot trade wind. Warm waters, beautiful sandy beaches and areas set aside solely for practicing the sport make Maui one of the foremost kiteboarding spots.
The most common kite sizes for local riders range from 5 to 6.5 sq. meters for men
and 3 to 5 sq. meters for women, in the spring and summer. In the late fall and winter, when the winds become less predictable, due to low and high pressure centers moving in and out of the area, sizes range from 3 to 23 sq. meters.

Currently, there are several different areas where riders are launching. The most popular is the west (downwind) end of Kanaha Beach Park. Kihei and west side (above Lahaina) areas are also popular with intermediate to advanced riders. Each of these sites has its own unique challenges so we recommend, before jumping into your rental car at the airport and heading off with your equipment to ride, stop at a nearby shop for the safe riding guidelines brochure.
For much more information about kiteboarding (also called kitesurfing or kitesailing) on Maui, including gear rentals, pros, great spots, and lessons, check out the sites in the table below. If you're looking for lessons or gear rentals, see the links below to find where you want to go, and then visit our Discounts & Bargains page to save some bucks on your kiteboarding experience.
---
---
Maui Hostels - Cheap Kitesurfing Hotels