---
Back to Bangkok, Thailand
NOVEMBER 29-30, 2009
---
A little bit depressed by what we had seen in Vietnam and Cambodia combined, our trip was almost coming to the very end. We had one final evening in Bangkok, so decided to spend it in style, staying at the Lebua at State Tower, an absolutely gorgeous hotel.

Our room was tastefully decorated with a view to die for (we stayed in the 2 bedroom suite on the 60th floor), overlooking the streets of Bangkok and the infamous river Chao Phraya. We started off with a glass of Champagne before dining at the Lebua Restaurant, located on the 63rd floor, making it the world's largest al fresco restaurant. The food was good, not great, but the view was absolutely unbeatable so it definitely made up for any shortcomings with the food.
We had an after-dinner drink at the Sky Bar, making the evening just about perfect before returning to our room preparing for our airplane trip to coooold and snowy Sweden the following day. This truly was the end to our three month long journey to South East Asia and we can't wait to go back and explore so many places we did not have a chance to experience.

'Lebua State Tower & Sirocco

Staying at the Lebua at State Tower, a 5 star hotel in Bangkok.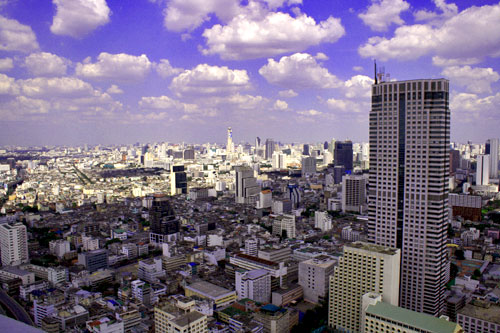 "All roads lead to Bangkok"

Hubby sipping an afternoon martini.

Sun setting as we gaze from our balcony.

Dinner at Sirocco, situated on the 63rd floor of the dome at the Lebua.
And apparently the world's highest Al Fresco restaurant.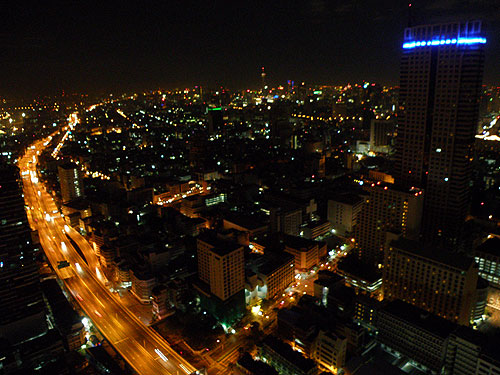 This "Bangkok at Night" photograph was taken from one of our balconies.

Me enjoying an '"after dinner" glass of wine.

This restaurant was fabulous. Although we dined on the 63rd
floor, it was still not cold outside, with little wind and lovely live
piano music echoing through the "Dome" and it's surrounding
areas. One had to walk down the stairs to enter the
dining area. A very exclusive entrance and even
more spectacular setting. A very great evening
to celebrate the end of our 3 month trip.
---