---
Yangshou, China
SEPTEMBER 28-30, 2009
---
Arriving to Yangshou by boat from Guilin and cruising down the Li River. We had our 5 pieces of suit cases on the boat, luckily there was plenty of room on the first deck. After we docked, we waited at the Lucky Buffalo Bar until we could check into our hotel. We had to wait until the road opened up for car traffic...

We checked into Li River Retreat. nice place, although in need of some serious updating... A bit rustic for our taste - however the setting was just spectacular!!! Definitely one of the "best scenery" hotel experiences we have every had. So calm, so peaceful and so serene.

We spent a few days in Yangshou, going bicycling for an entire day (ouch - not used to over 8 hours on a bike nowadays), bamboo rafting down the Yulong river, and also went to see the famous Yunnan evening show, composed by well-known Zhang Jigang who directed the opening ceremony at the Olympic games held in Beijing. What a spectacular show !!! We also went hot air ballooning over Yangshou, beautiful scenery, a bit hazy and cloudy - but still was a very nice 1 hour experience.

Overall, we really liked Yangshou and would definitely come back for another visit, especially when investment dollars come into the area, making the city more of a resort town with 5-star accommodation and upscale dining than just a backpackers' paradise.
Bicycling Tour in Yangshou

Went on a day long bicycle trip. We passed rice fields, live fish markets (with snakes and weird super small strange looking fish), small villages, and saw an array of vegetables and fruits.
Bamboo Rafting on the Yulong River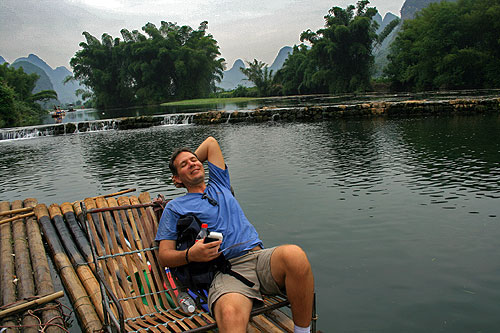 Taking a nice, relaxing nap! We went on a bamboo raft for about 2 hours.
Moon Hill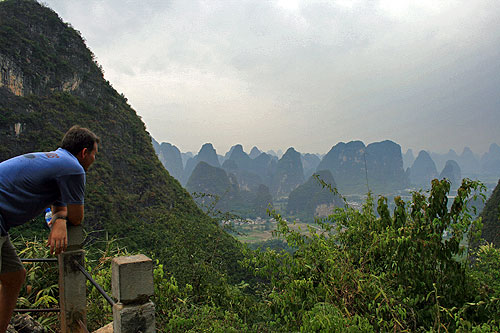 Admiring the view after climbing 800 steps up to Moon Hill.
Hot Air Ballooning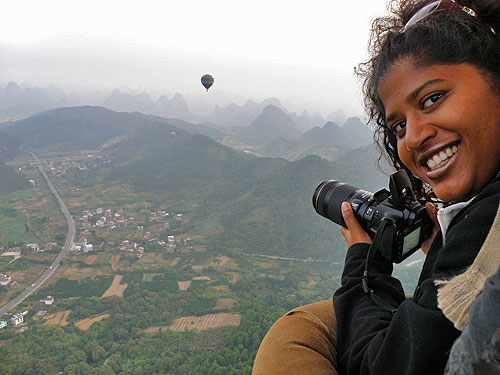 Going hot air ballooning over Yangshou. Absolutely gorgeous!

Yunnan Impressions Show

Watching the outdoor Yunnan show with the Yangshou hills as a backdrop (all lighted up) really made this performance one of a kind. Over 500 people take part in the show, everything was done flawlessly and along with the music created a perfect evening entertainment.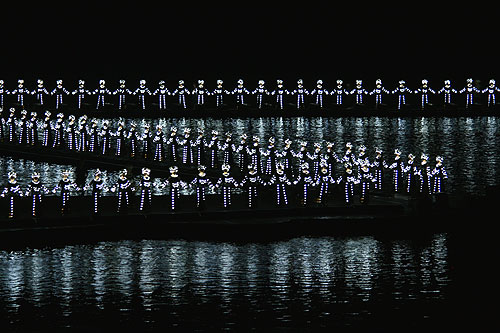 This part of the show was very nice. All these lighted up "skeletons" are people
(and there are many more the camera could not capture on one screenshot),
the whole thing was choreographed without mistake. Off and on, reminding
us of falling dominos - and all of the lights worked perfectly.
Definitely not like hanging our Christmas lights at home.
Out & About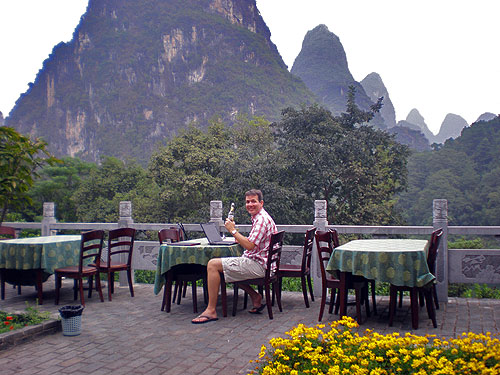 Also need to do some work and "re & dehydration". Sitting right outside the
lobby of the hotel. Not too bad of a view for a temporary office, or?!
---