---
Hoi An, Vietnam
NOVEMBER 12-14, 2009
---
From Hue, we drove to Hoi An, a beautiful scenic drive, with a great view from Hai Van Pass down the coastline. The city is located in the of South Central Coast of Vietnam and a UNESCO world heritage site, famous for its example of an ancient south east trading port. We made a quick stop at the Marble Mountains, a famous place to pick up some marble hand-made figurines, along the way.
We visited here for a few days, so we were looking forward to some R&R and just having some down time. We stayed at a lovely boutique hotel, with fresh flowers scattered every day on the bed and in the bathroom and one of the best breakfasts we encountered while on our trip in Asia.
There were hundreds of tailor shops to explore where you can choose your own fabric (everything from silk to linen), get your measurements taken, and voila! A few days later, clothes were ready to be picked up - new wardrobe anyone? Johann had several shirts and trousers tailor made for him, definitely a city to get some clothes made, though not all tailors are created equal, we found out.
The Bon River runs through the city, with many restaurants and shops lining the waterfront. We went on a 2 hour walking tour, visited Nha Trung Bay museum, took a cooking class from Dao Tien (a wonderful person with fabulous culinary skills), and also watched real silk worms do their thing producing fine silk (what we pay quite a hefty sum for in Western stores).
Another day we took a motorbike tour. We were out the entire day, riding in the country side, seeing small villages, engaging with local people, a true cultural experience of daily life in Vietnam. It was a blast, a bit scary at times, especially riding in town, there are no stop lights or traffic rules for that matter. You had to maneuver around the water buffalos who strolled the roads, but for sure a MUST DO while in Hoi An!
'Downtown Hoi An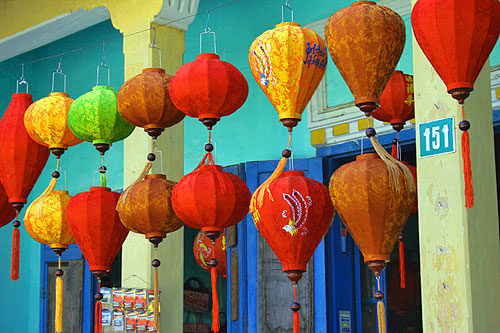 So many beautiful colored hand crafted lanterns - the entire downtown was very cozy,
with lots of shops, countless tailors and green trees lining up the streets.

Hoi An's famous Japanese bridge (built by the Japanese trading community) -
linking the old Japanese quarter with the Chinese one.

Johann catching a quick ride with an "uncle" to see if the clothes he had tailored made
were ready for pick up. Helmet, wow!!! That's a first...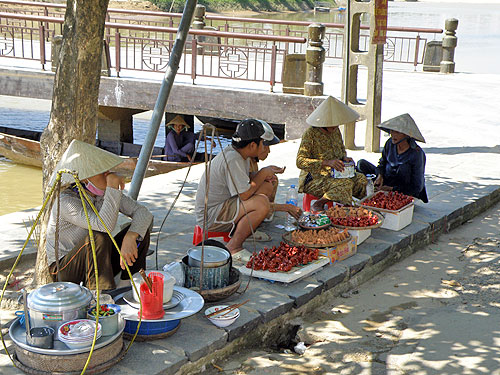 The local sidewalk cafe - lunch anyone?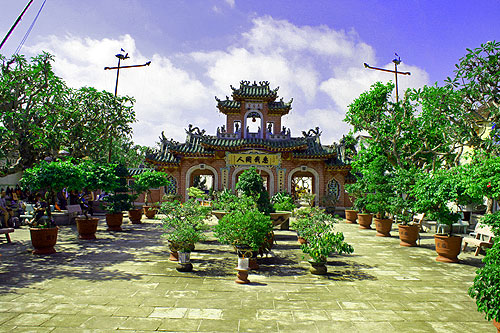 Phuc Kien Chinese Assembly Hall, the center of town - just love
the symmetry and architecture.
Motorbike Tour

Boy, did we have a great day on our motorbikes. Well...that's until
somebody crashed and fell in the ditch, wonder who?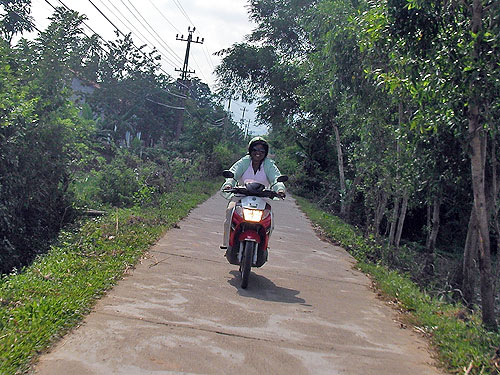 We cruised through small villages and down country lanes...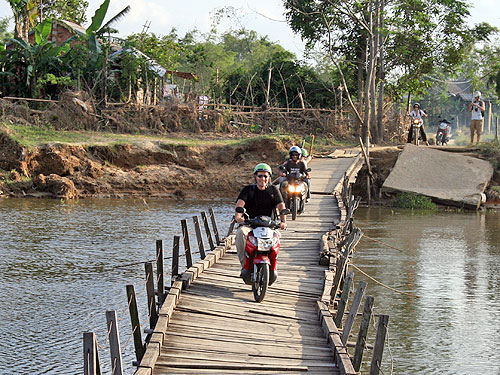 And across really sketchy bridges...amazing Johann didn't fall in the water!

We loaded the bikes onto a pole-powered "ferry", also a bit sketchy, but interesting.

No, this isn't after Johann crashed. One of the motorbikes got a flat tire, so we
stopped at this guy's house who helped us fix it. The whole neighborhood was
soon gathering around, quite an exciting occasion!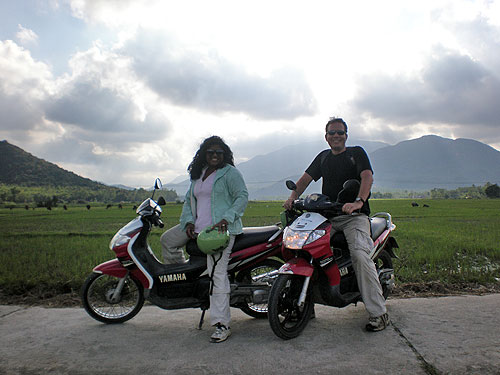 Just beautiful scenery throughout, water buffalos in the field beyond. One of
the highlights of our trip to Vietnam.
Cooking Class Time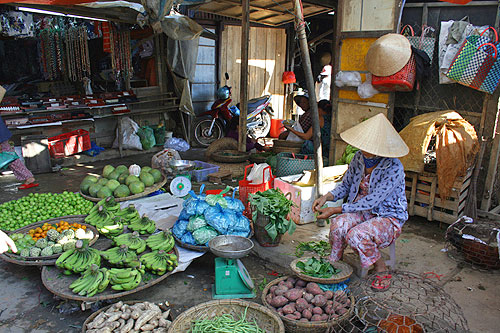 Heading to the market for some shopping. Getting ready for our cooking class.
There was a lady there who kicked us out of her store because we were American,
certainly with the older generation the War has not been forgotten, though
we had no other encounters like this throughout our trip, the people were very nice.

Master chef Johann!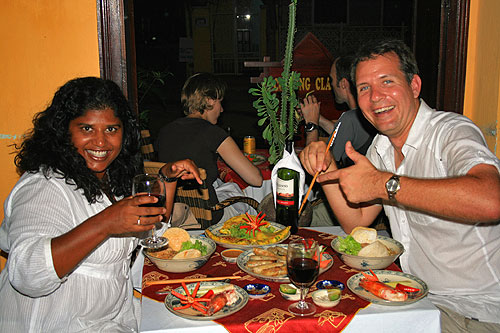 Yummy, we were successful - all the food on the table we prepared and cooked,
of course with a little bit of help from our teacher, chef Dao Tien. We learned to make
flowers out of just about every vegetable there is... So much fun!
---