---
Phnom Penh, Cambodia
NOVEMBER 27-28, 2009
---
After our visit to Angkor Wat and Siem Reap, we took one of our final flights for the 3 month long trip (before heading back to Sweden, phew, were really getting a bit "flied" out by this time); our next to last stop was to Phnom Penh. A city highly influenced by French, colonial architecture, a quaint city that reminded us a little of Vientiane in Laos. Cars hustling and bustling, a quite nice waterfront and Royal Stupas and buildings complimenting the skyline of the city.

During our stay in the Phnom Penh, our primary purpose was to visit the Killing Fields (mass graves) and the Toul Seng Genocide museum. Not the most uplifting end to our trip, but yet to us very important to see, The Toul Seng museum was once a regular high school with school aged children, but later became the torturous S-21 prison (Security Prison 21) for the Khmer Rouge regime during their genocidal reign. In 1979 when the Khmer Rouge regime was driven out, the prison was preserved just in the way they left it when it closed down. Very surreal to see with your very own eyes.

Both venues are devastating and so horrific, and yet the question that always seems to lack an answer is how in the world could the World stand by and be foolishly lied to by the Khmer Rouge regime, especially as the Vietnam/American war had ended a few years before and WWII that happened a few decades before? HOW and WHY? When the Khmer Rouge regime finally was stopped, between 1.4 million and 2.2 million people had been tortured and/or killed. An estimate that is between 30-50% of the entire Cambodian population at the time. Completely mind boggling...
'Downtown Phnom Penh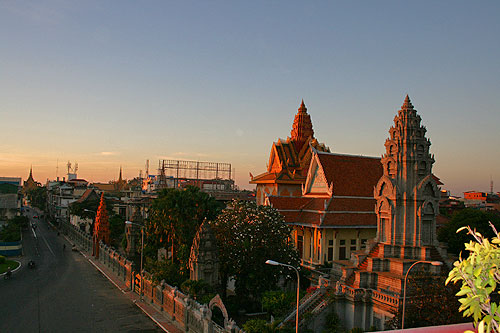 View from our hotel room -- located right on the same street as the
Royal Palace and some of the Royal Temples.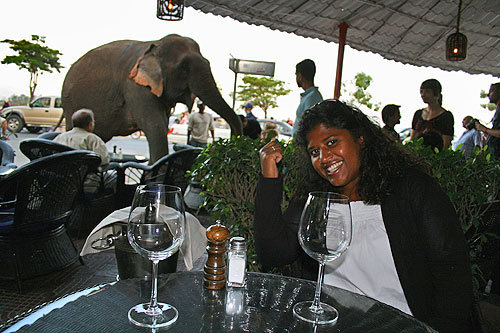 Ellies also want to join in the Happy Hour festivities, there's nothing wrong with that!

City sightseeing in Phnom Penh.
The Dark History...

The outside view of the S-21 prison (now a museum). It is estimated that about 20,000
people entered the prison, and only 6 people are known to have come out alive.

Practices of torture and cruelty were just the beginning that people suffered
at Toul Sleng. Barbaric murdering went on for 3 whole years.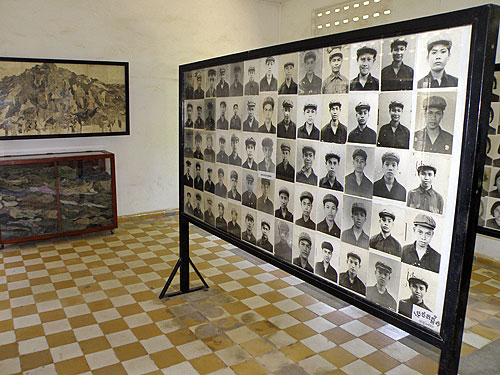 Every person who was taken as prisoner was photographed first, before stripped of
all clothes and any personal possessions. These photographs are still very
much alive and preserved in today's museum.

The Killing Fields were totally gruesome. The atrocities that were committed here
were quite on display, a chilling feeling to walk around the mass graves.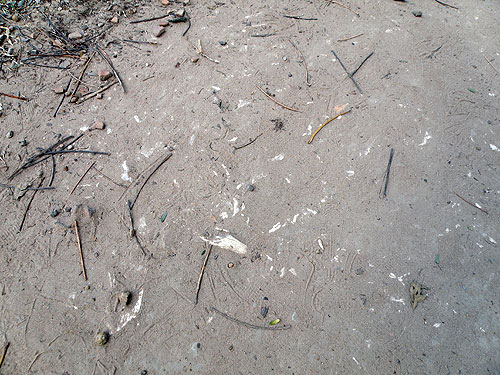 Bone fragments and pieces of clothing were still sticking out of the ground in the pathway.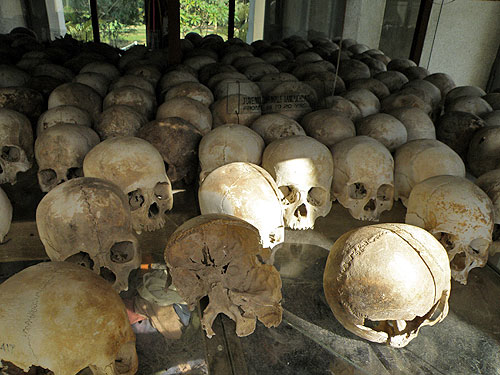 It is estimated that over 17,000 people were executed at the Killing Fields.
4000 skulls have been excavated and are displayed in a glass cabinet for
the world to see and remember.

A commemorative stupa at Choeung Ek in memory
of the victims that were killed by the dark leaders of
Khmer Rouge. Between 1.7 to 2.5 million out of
8 million people in the country of Cambodia were
executed during the Khmer Rouge regime.
---