---
Hanoi, Vietnam
NOVEMBER 4-8, 2009
---
We took a quick 1 hour flight from Laos to Hanoi and checked into our hotel, located in the French Quarter. So many motorbikes, excessive honking (may even be worse than China), and lots of car/bicycle traffic. It was really a vast difference from laid back Laos. But with a completely different culture and people, we were excited to see what Vietnam was all about.
We didn't spend too many days in the city, as we only had a few allotted, but we did go on a tour around the city which involved activities such as the water puppet show, a visit to the Ho Chi Minh mausoleum and the house the Uncle used to live in, stopped at the One Pillar Pagoda, went on a cyclo tour around the Old Quarter, took an hour or two to see the Ethnology Museum, and went for a stroll at the Hoan Kiem Lake. Needless to say, it was a packed day, but we had a wonderful guide and we felt like we learned quite a bit about some of Vietnam's history.
Downtown Hanoi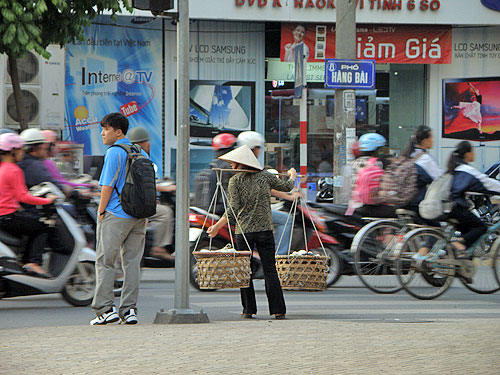 We stayed in the French Quarter, which is Old Hanoi. It was quite a wild mix of
motorbikes and pedestrians, you really know you're in the city!

Johann trying to fit in, but not succeeding.

The area was buzzing day and night, people everywhere!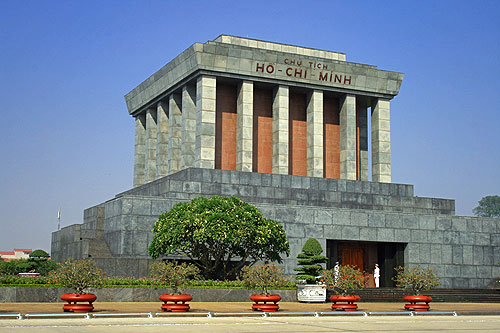 You cannot see Hanoi without visiting the Ho-Chi Minh mausoleum. located in the Ba
Dinh Square. Here is where the president read the declaration of independence in
1945. Thousands of people stood in line to see his preserved, cooled body.
We opted not to as it would be several hours we were told to do the walk thru.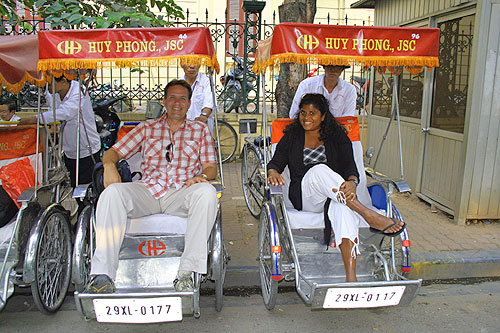 Taking a cyclo ride during our city tour. Was a very efficient way to get around, but
poor guys having to cycle us around (they had to have big "Vietnamese muscles")!

The Ho Chi Minh Presidential Palace was a very nice looking building,
but Ho Chi himself didn't like to live there - too posh.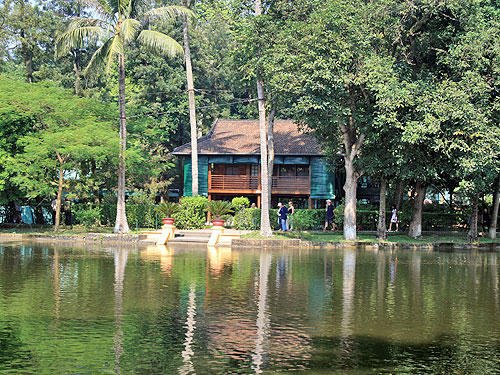 Instead he lived back in the woods, in this inconspicuous regular-guy house on stilts.



We also toured the One Pillar Pagoda, a historic and unique Buddhist temple
made of wood on a single stone pillar, located in the center of Hanoi.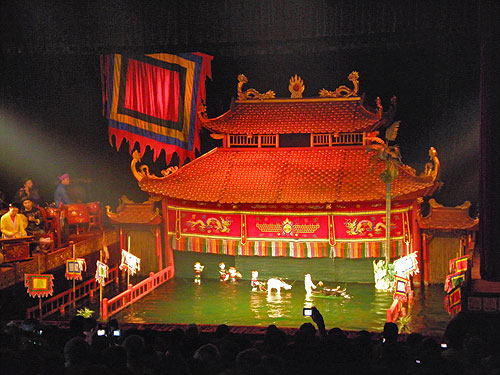 We checked out the water puppets show - it was all in Vietnamese, and really
a strange form of entertainment, but quite culturally interesting.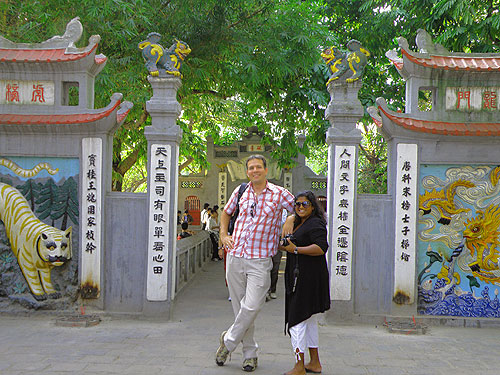 Here we are standing outside the entrance to Hoan Kiem Lake,
the lake of the returned sword. It truly is a beautiful, "natural" site in the middle of the city.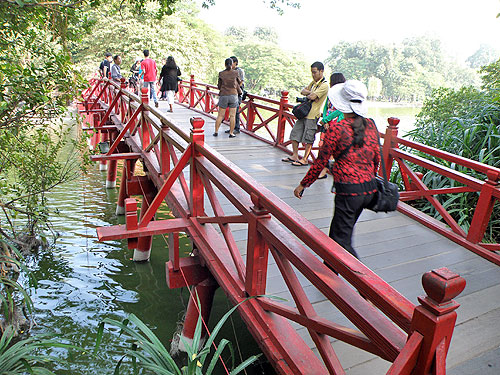 Walking the Hoan Kiem bridge. It didn't go all the way across, but rather to a small island.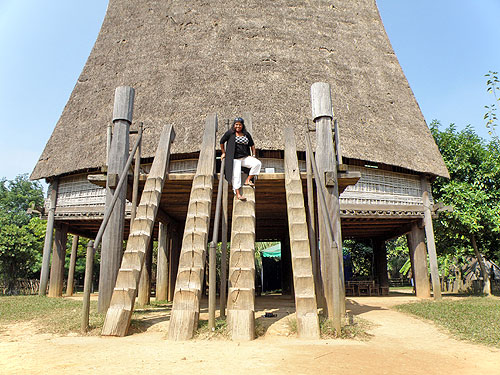 Here we enter a typical house showed during our tour of the Ethnology museum.
A definite recommendation if you are planning to visit the city of Hanoi.
---