---
Hong Kong, China
OCTOBER 5-8, 2009
---

After our visit to Shanghai, we took the flight over to Hong Kong. It was a semi-long and bumpy trip, not fun at all - especially if you are a little bit scared of flying (yes, I know, need to work on my meditation practices a bit). Arriving into Hong Kong already felt differently from Shanghai. Mountains, water and yes, sky scrapers of course, but with a very unique feel and special vibe to it. We absolutely loved it, smog could of course be less, but other than that, a lovely city to explore.

We went to the touristy places like Victoria Peak, Aberdeen Fishing village, took evening boat tour of the harbor, and went out to Lantau island to see the largest bronze Buddha in the world. We had a fantastic time with great weather most days. What a skyline at night - one to definitely not miss!!! Lights everywhere, your eyes and mind were stimulated from the very beginning of the evening until they were closed at the very end of the night. Hong Kong is a must see city!
Hong Kong View By Day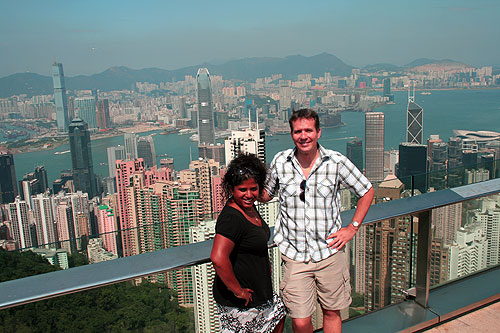 Marvelous, sunny day overlooking Hong Kong Island and Kowloon
from famous Victoria Peak.
Lantau Island

One our way up to see the biggest bronze Buddha in the World. Can you see it?

This is my husbands idea - really, you wouldn't say?!!!
I think he wanted us to show off our Kung Fu pose.
How do we look?

Close up photo of the huge Buddha overlooking the hills of Lantau Island.
Out & About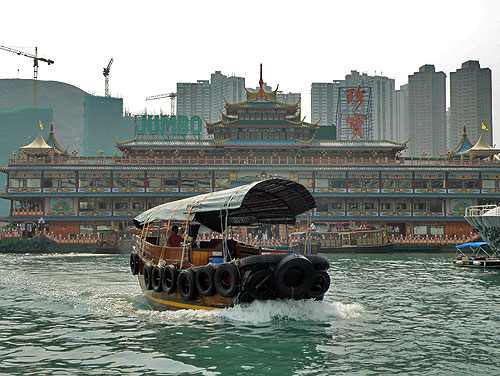 Recognize this - where is James Bond? Oh, he just swished by on
his wave runner, you just missed him!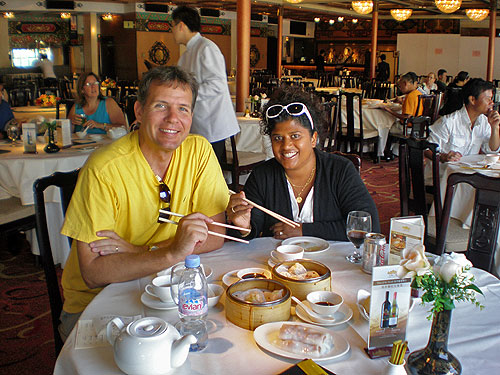 Enjoying delicious dim sum at the Jumbo Floating Restaurant.
Hong Kong View by Night

The lady who took this picture was supposedly a photographer.
Hmmm...Guess you can't do anything about the subjects (smile)!

Another pose of the famous Hong Kong skyline.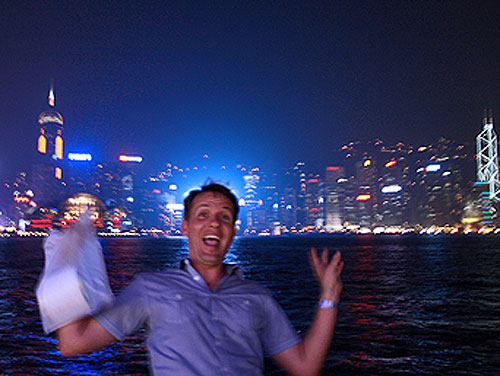 And then there was GEEK!
---