---
Lhasa, Tibet
SEPTEMBER 18-20, 2009
---
Flew into Tibet from Chengdu. Pretty nice flight over some wonderful scenery. We spent a few days in Lhasa, exploring the temples and culture. Very different from the main land China (funny, the people in Lhasa refers to the "mainland" that way, even though they're not separated by water...) Nonetheless, Lhasa is filled with people who believe in Buddhism (about 95% of Tibetans are Buddhists), actually lots of people all over Tibet come to Lhasa for pilgrimage and religious dedication.

Learning more about Buddhism and the culture in Tibet was very interesting. We were only the few of different hair and skin color, so definitely minorities, no doubt about it! But we didn't mind the 40-second looks (double the time that we get in other places in China) - we just smiled. and smiled some more, who knows what was said behind our backs?... All we know was that there were lots of giggles and many stares. Hopefully all in good spirits.

After visiting the famous Potala Palace and summer palace. we also had a chance to visit a few monasteries. Very happy that we went and it was a complete different cultural experience. I don't think I would go back, but Johann would love to come back and enjoy some more of the beautiful nature that Lhasa and Tibet offer- trekking and camping, hmm...I think we may have to talk some more about this...
Potala Palace

Now, that's what's called a 1300 years old Palace. It took many Dalai Lamas to build and complete this amazing structure (final structure finished in 1645 by the 5th Dalai Lama). We walked from street level all the way to the very top of the palace. Views are surreal and the inside is beautiful and spiritual. Every room was inhabited by Buddha statues, with monks and local people praying, burning incents and taking part in Buddhist rituals.
Summer Palace

Standing in front of the 14th Dalai Lama last summer house. This is a museum now,
open to the public. We saw where he greeted guests, slept, studied and prayed.
Very interesting. So simple, yet very grand it its own way.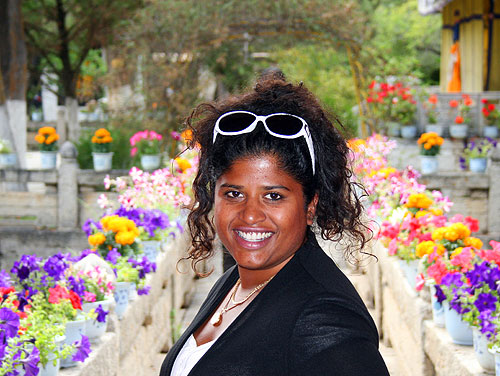 Wow - close up! Loved the flower decorations outside of the Summer Palace.
Out & About

A picture can say a thousand words!

Hey, who's that handsome looking man??!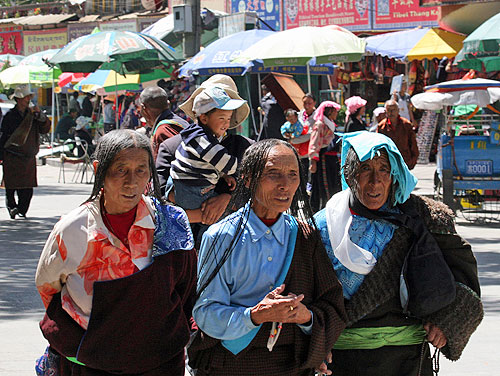 Nomads, making the pilgrimage from other parts of Tibet to Lhasa.

This is what made Tibet so unique and special to us. The people.... So colorfully dressed
and with such dedication for life and spirituality.
---