---
Shanghai, China
OCTOBER 1-4, 2009
---

Arriving from beautiful, calm, farm country feel Yangshuo, to big city Shanghai, certainly had a different feel to it, mainly due to its massive skyscrapers stretching as far as the eye can see. Also, it didn't help matters that this was the National Week - celebrating 60 years of the communist party, so massive amounts of people were EVERYWHERE!!!

The main shopping street and old town were pretty much impossible to walk on. You were just walking like ants on an enormous ant hill - and what should take 5 minutes to walk took at least 20 minutes. During our stay in Shanghai, we took a bicycle tour around the city - off peak traffic hours of course. We really find ourselves enjoying taking bicycle tours in various cities. It's much easier to see a lot of the city as opposed to hiring a car or waking. We also went to see the Acrobatic show, which was entertaining, attempted to do some shopping but gave up fairly quickly, too many people, and took the Maglev high speed train to the airport for our next city visit. This train can go up to a little over 400 km per hour, incredible FAST!!!

Overall, Shanghai was a bit too smoggy and congested for our taste and definitely not a favorite on our list of places to see in China. But perhaps under normal circumstances with only 20 million people in the city as opposed to what felt like double, would leave us with a different impression...Don't know if it's worth a second try - the jury is still out on that one.
Shanghai City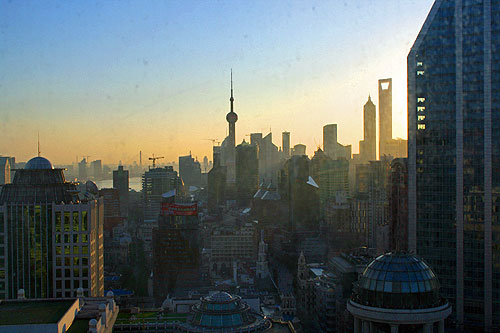 Sun rising in the morning, City view from our hotel room.
Bicycle Tour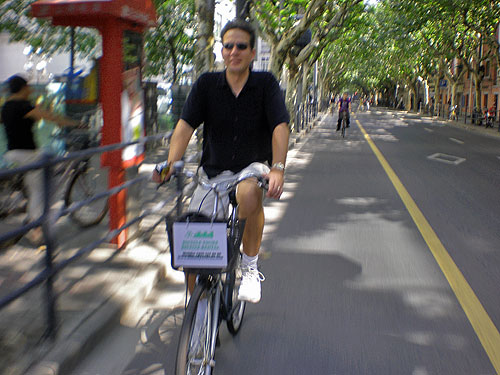 Johann enjoying a day out bike riding. Had a very nice guide who showed us around
in the city. Unfortunately, the main shopping/restaurant street "the Bund," was closed
so we didn't really get to see it. Stopped at several exhibits and also rode by the river.
Had some excellent dumplings for lunch - we are all about the dumplings...
Out & About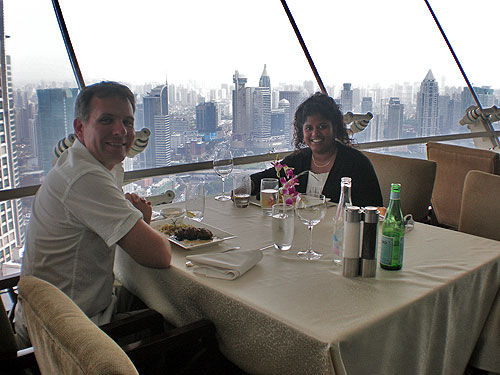 Dining at the rotating restaurant on the 45th floor of our hotel - the Radisson.
Very nice 360 degree view of the city, definitely worth it!!! Food was so so.


Okay, that is me making faces after Johann just informed me that there was a
big, fat RAT right behind me. He snuck in between the wall - can you see it???
Health inspection in Chinese restaurants, what is that?!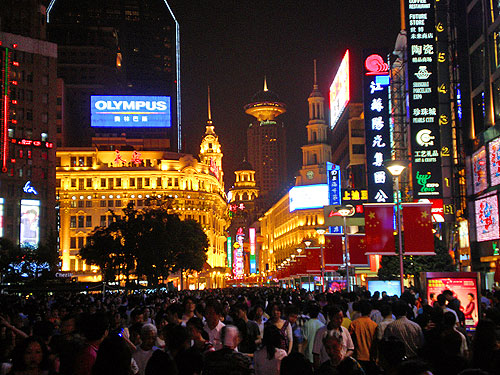 Walking down the main shopping street - AHHHHH, can you see anything else but
countless of heads. There were MASSIVE amounts of people.
Way too many for our flavor.
---