---
Mekong Delta, Vietnam
NOVEMBER 21-23, 2009
---
After our somewhat somber visit to Ho Chi Min City, we were off for our 3 day bike ride in the Mekong Delta. WOW, what an experience! We had such a wonderful time and it really just left us with this TRUE feeling of knowing that we had been to Vietnam. Even though we could not say more than 1 or 2 words in Vietnamese, most of the folks that we met out along the country side were so nice and friendly. And let's not talk about the children. So cute and all came running out from their houses, shouting HELLO! HELLO! in English. Truly adorable.

The driver and our bike guide were great. Didn't have too much English under their belt, however we had a very nice time and we felt safe all the time, even when we took our bike across barges, cycling alone when the guide broke down after the 1st day of a knee injury (hmm. that is what we were told anyways - perhaps he had a nice time riding in the van with the driver following us???!!!), and Johann tasting freshly cooked silk worms accompanied with snake wine, umm, sooo good! I passed on the worms, but a shot of the potent wine, why not?! Perhaps I would sleep very well and would not wake up until the morning...
The landscape is beautiful in the Mekong Delta, people are so lovely, and it really left us with true fascination and admiration for the entire country of Vietnam. Going to the Mekong is a memory that will last with us forever.

'Biking in Mekong Delta

And we are off on our 35 KM per day bicycle ride. Very exciting!

Of course we have our support vehicle and we were suppose to have a guide
riding with us, but he flaked out (knee injury - sure) and decided to ride in the
car following us instead.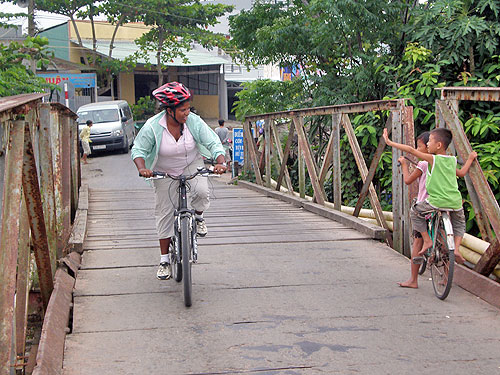 Taking a moment or two to say Hello!!!! Very cute kids.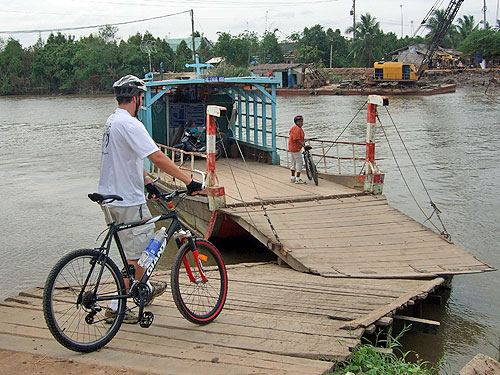 Taking the ferry across the river to continue our trip. We were adopted by one of
the local women working at the ferry pier, so we always have a home to return to!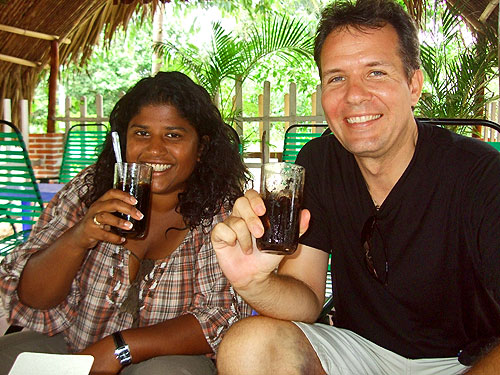 Stopping to enjoy a Vietnamese Coffee (don't ask) on a break from biking.
Floating Markets

Passing by the land market before heading onto the floating market - on water
(No we didn't ride our bikes on water, duhh).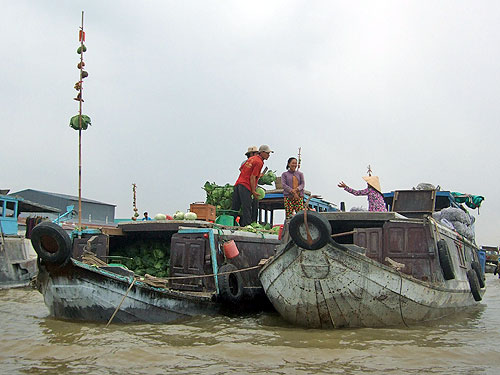 The river was filled with boats trading their goods, and buying produce and other
items from each other. Very interesting to see, even to participate in!

Stopping for a "small" refreshment break - sliced right up on one of the boats.
They wanted to give us a whole pineapple each - but we very kindly declined
and said that only a half was enough (hmm, and I usually just eat one slice)!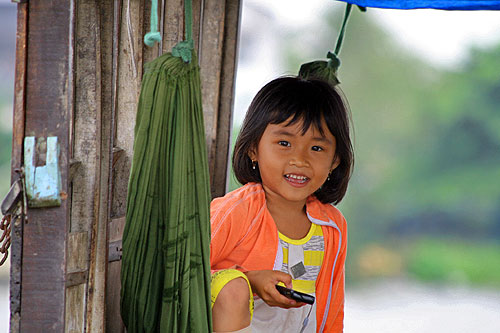 No matter where you seem to go in today's world, everyone has a cell phone.
Well, that of course does still not include us - we are so falling behind the times, eeehh.
Rice Paper Making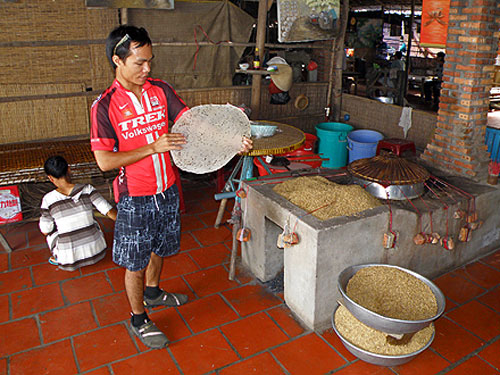 Our guide illustrates how rice paper is made from start to finish.
---