---
Nha Trang, Vietnam
NOVEMBER 14-17, 2009
---
After Hoi-An, Nha Trang was our next stop. BEACH here we come! Beautiful scenic drive along the bay from the airport. About an hour or so later we arrived to our hotel which was located just across the street from the beach. We had a wonderful suite overlooking the waterfront promenade and the sea. It couldn't be a better place for us to get some work done and also get a small break from the normal "city touring".
Nha Trang is a very famous vacation spot for the Vietnamese and has one of the most beautiful bays in the entire country (actually Nha Trang Bay has been voted to have one of the most beautiful bays in the entire world). Although we didn't swim or lay on the beach too much, we definitely enjoyed the partying in the bars with fun, eccentric people, and quite well prepared foods - fresher seafood most likely not possible. So needless to say, we definitely enjoyed the rest and relaxation, especially as our next stop was Saigon/Ho Chi Min City, quite a bit of difference between the two cities...
'Nha Trang Bay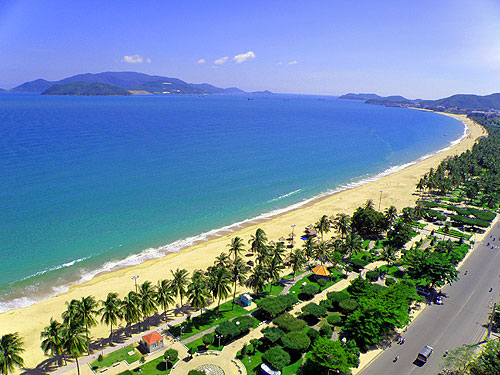 We had an absolutely gorgeous view from our hotel room, overlooking Nha Trang Bay.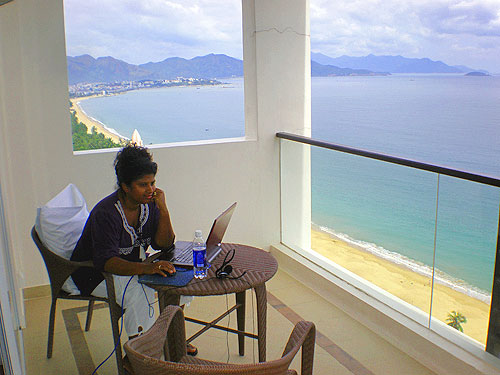 If you have to do some work, this isn't such bad office, is it?!!!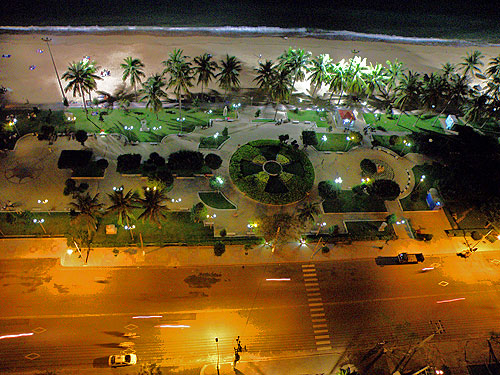 The park just across the street from us was the hang out during the evenings. Lots of
people and actually a few cook-outs on the beach as well. Umm, the smell of bbq.
One evening, we actually set our alarm clock for 3 in the morning so we could go
out and watch the Leonid meteor shower (supposedly the strongest shower
in November), but of course, this was the night when there were clouds in the sky so
we didn't get to see it. Darn - it would have been spectacular to see!
Out & About

Had a lovely dinner at Truc Linh fish restaurant. Johann asked what fresh fish they had, and
they literally fished it out of the fish tank and brought it to our table in the net so we
could see! Fresher fish I don't think you can get unless you cook right on the boat after
making the actual catch. Yummy!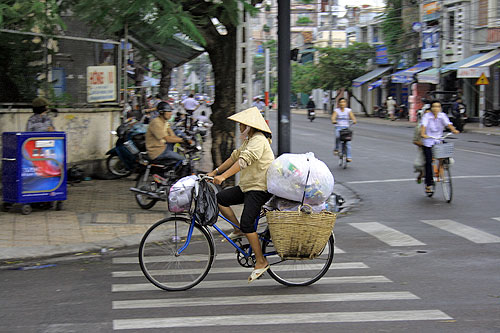 Just another bike ride. Hopefully this girl's luggage weigh less than it looks like...
Yikes, hope she has good balance?!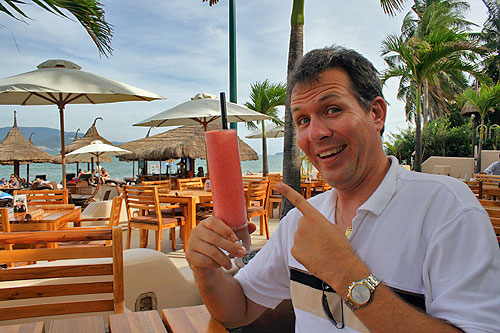 And this is Johann's exercise for the day. Nothing says it like sipping a tropical drink
on a lovely beach in Nha Trang.
---