---
Beijing, China
SEPTEMBER 7-12, 2009
---
Finally arrive to China after an almost 9 hour trip from Arlanda, Sweden, oh and don't forget the time change of 6 hours... Long day and night it was, however we were very exited to find ourselves being in Beijing.

During our stay in China's capital, we did several things, yes, we had a pretty full schedule and were busy most of the days, and didn't really get to see the nightlife (perhaps we should be called "oldies" nowadays anyways). Full of excitement and energy, we went to famous tourist places including the Forbidden City, Great Wall, Summer Palace, took bicycle tour in the old Hutong neighborhood, attended a few cultural must shows, as well as opened our eyes to "real" Chinese food culture and way of living.

We really had fantastic beginning to our Asia trip and found ourselves wanting more of China!
Forbidden City and Temple of Heaven

The Forbidden City - home of 9999 thousands rooms. What a place!!!
Took several hours to walk through.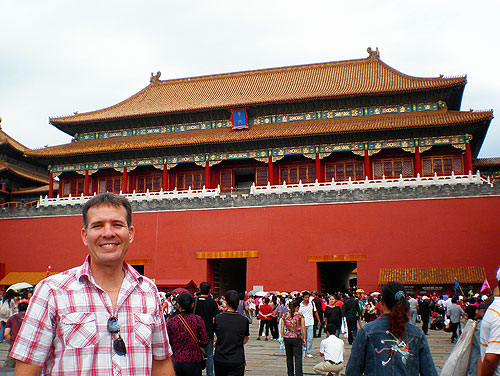 Johann posing in front of one of the main gates of the Forbidden City.
Ahhh, how handsome!!!!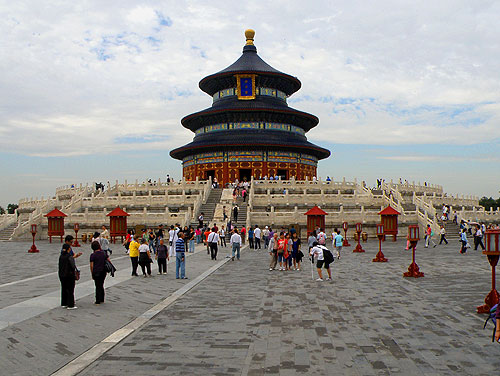 The Temple of Dawn - quite magnificent!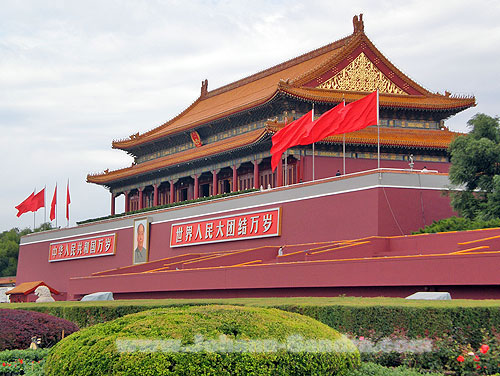 One of the famous views from Tiananmen Square overlooking the
gateway to the Forbidden City.
Great Wall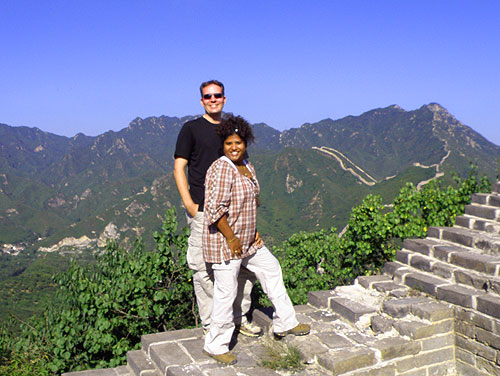 Snapping a photo of the spectacular Great Wall of China - 400 KM long.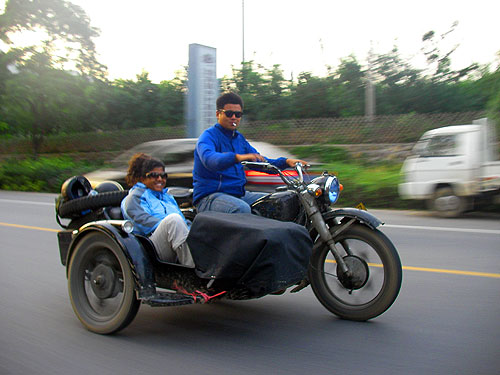 Our transportation to the Great Wall. A whole day on these - wow baby!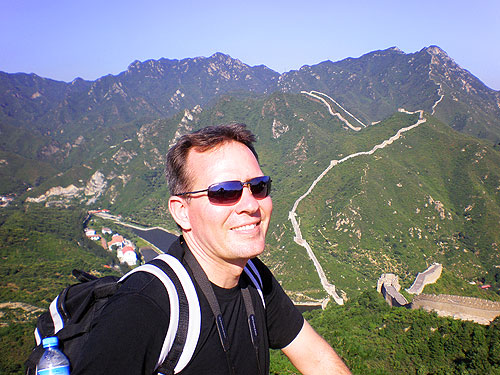 We had a perfect day up on the wall. A little bit of hiking and some sweat, but all
worth it in the end. Had a French style picnic accompanied with
Rose Wine, thank goodness for French people.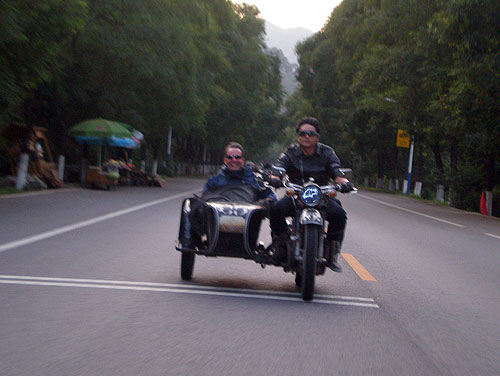 I think we both had a really great day on these, especially as we didn't have to drive.
Going in Beijing traffic was madness! But luckily we back safely, except that Johann and
his driver were lost for an hour due to a flat tire. And of course we were standing on the
side of the road, wondering where they were... Communication anyone??!!!
Hutong Bicycle Tour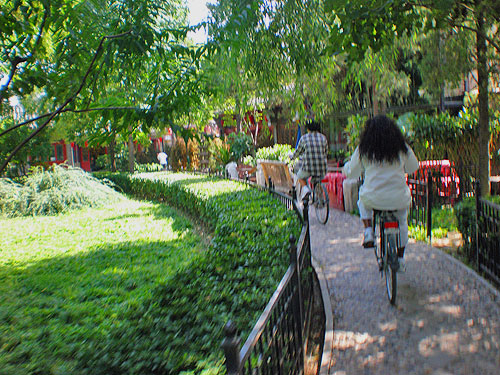 Every tried bicycling in traffic in the city. Yikes! Was a bit shaky and scary, but we got the
hang of it. Driving in the narrow alleyways, "Hutongs" certainly was
an experience we won't forget.

Out & About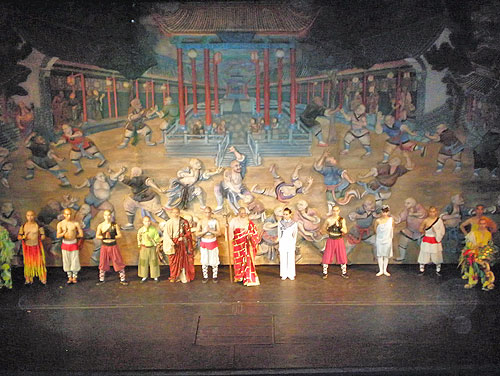 Going to a Kung Fu Show - told the story of how Kung Fu was born. The show
filled with action and definitely did not fall a sleep to this one. It was amazingly
well done and we enjoyed every second on the 1 hour and 20 minute entertainment.

We also went to see a Peking Opera. Hmm... That one was more difficult to stay awake.
Very slow pace and there was virtually no staging. Same lighting and same background.
zzZZzz....Good thing that there was opportunity to videotape. To give some credit, the
second half of the opera was more enjoyable with "ribbon dancing" and "feet juggling".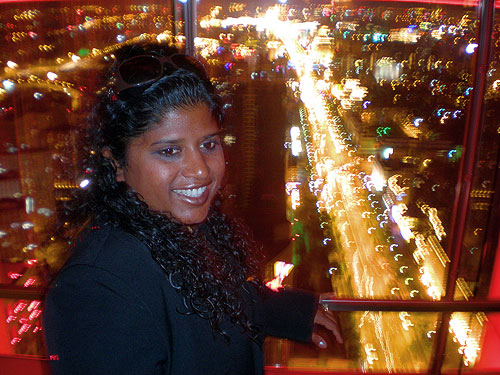 Went to dinner at the China Grill located in the Park Hyatt. Amazing view of Beijing.
We ordered the sushi and sashimi platter - don't know why?
Should have stuck to Chinese cuisine.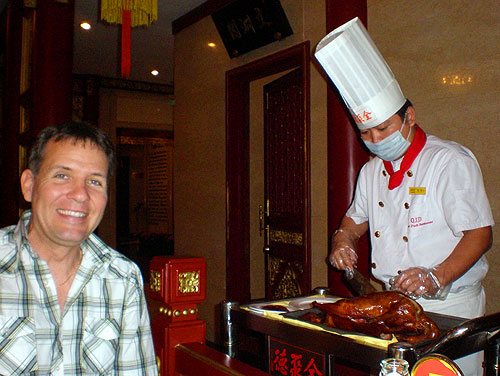 Can't visit Beijing without having the infamous Duck. We ate duck twice; one at
a more traditional restaurant, Quanjude and also at the very modern Da Dong eatery.
We had a really nice time! Duck was delicious both times around.

And you can't go to China without having Hot Pot. Luckily we have had this several times
at Mei and Brian's so we knew what we were getting into. I LOVE HOT POT!!!
Johann is so so... I love the veggies, noodles, tofu and meat - all cooked to
order at the table. That means that you can eat slow - heh heh, my favorite!
Summer Palace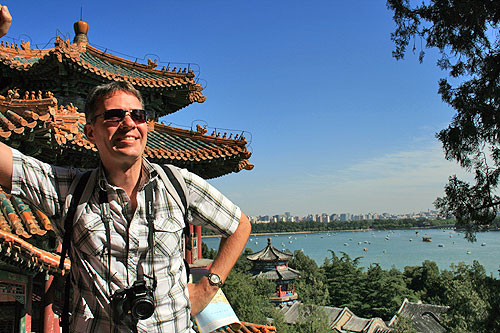 Took a taxi to the Summer Palace. Very nice grounds and beautiful green scenery with a
superb view of the city for the very top. Another gorgeous day!


A photo from Suzhou street. Just love the Chinese design and architecture. And the use of colors, so vividly presented and lively. RED anyone!!!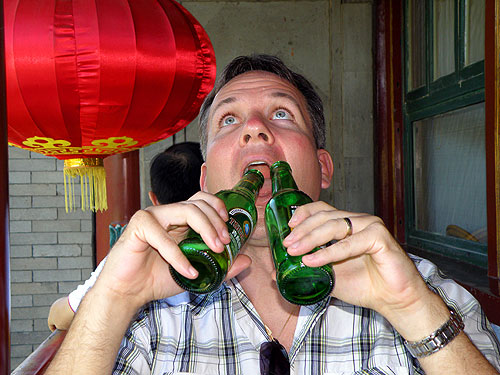 Johann after waiting for about an hour for our "fast" food to come out.
When in lack of energy, drink some more... And this was after we went to the "nice"
restaurant, and sat for 30 minutes without being served. Ggrrr...
Not our day for food. But, hey beer worked out in our favor!
---