---
Chengdu, China
SEPTEMBER 16-17, 2009
---
After Xi'an we took a short one-hour flight to Chengdu. Time to see the infamous pandas! Chengdu was quite the happening place; lots of shopping, restaurants and bars, the city filled with neon lights in the evening, and seemed like a great city to spend some FUN time in. Unfortunately, we didn't have the chance to experience the nightlife that much as I (Sandra) got a bit sick...Some strange nausea that didn't want to go away, so we had to spend most of our time at the hotel (at least I had to recover in a suite, which was nice for work and recuperating purposes).

But the highlight of visiting this city was of course the PANDAS, luckily I was feeling a little better and was able to take the 40 minute drive out to the Panda Research Center - Phhuuu, I was so happy that I was not too sick to go. Never thought I would like it that much (with all the "furriness" and smell and all) but guess what?!! I most definitely did; we had a fabulous time at the center and just loved seeing the big pandas, but the best of all was watching the baby pandas, play, eat and sleep. Sooo cute and cuddly, a time we will remember forever...
Panda Research Center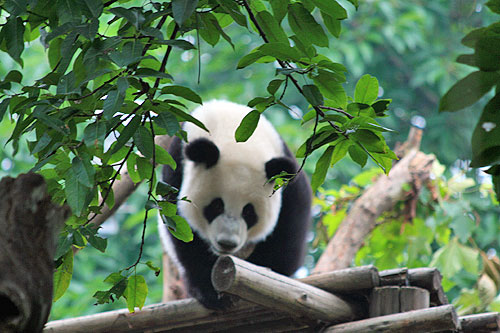 Who can say no to this fellow? So cute and soo cuddly!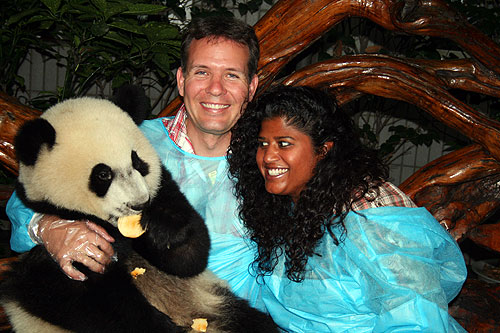 If you had any doubts about us being parents?! We are so ready, can't you tell?

The feeling was just amazing!!! A baby panda in my lap, yaaayy!!!

Johann is definitely ready for parenthood - he is a natural, don't you think?!!!
Swinging away with a red baby panda in his lap.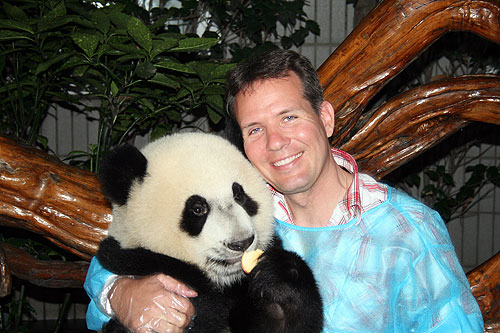 Another photo for the e-album. Just like being a kid all over again. The smile says it all.
---