---
Bangkok, Thailand
OCTOBER 11-15, 2009
---
Took a 2 1/2 hour flight from Macau to Bangkok. Wow, quite a bit different from China, we could see the sun, non-obsessive honking, and very little smog, it was great! Very excited to be in Thailand - especially ecstatic about the food. The flight over was a bit delayed so when we arrived to our hotel, we were quite beat up and decided to just stay in that evening. But for our five days in Bangkok, we had quite a busy schedule, so that was alright with us.
During our stay in the capital city, we took a tour of course of the Royal palace, Reclining Buddha Temple and the Emerald Buddha Temple. Amazing structures. We also did a little bit of shopping, went to the night bazaar, toured The Bridge on the River Kwai and the floating market, went to an evening performance of Thai culture and dance, and headed over to Ayutthaya for a full day of bicycling. So, yes we were quite tired in the evenings and didn't do all too much as far as nightlife is concerned. But overall, very happy to be in Thailand and we were very much looking forward to continuing our trip to other parts of Thailand including Chiang Mai and the Golden Triangle.
Royal Palace and Emerald Buddha Temple

A visit to the Royal Palace, Emerald Buddha Temple and Wat Pho, the Reclining Buddha Temple, so beautiful, and really brought meaning to the word "spirituality". One of the most grand temples we have seen so far on our trip.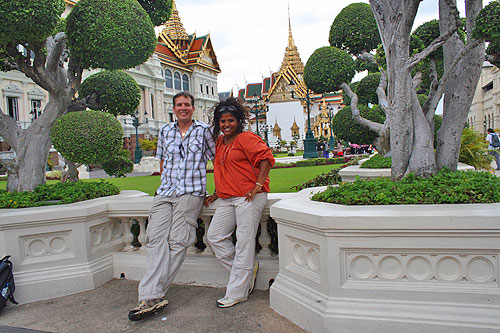 Posing in front of the Royal Palace - spectacular, pristine grounds and such vivid colors.

Almost as tall as me (Sandra), holding up a massive Buddha statue; these animal protectors do their thing, chasing away evil spirits and offering protection to the people. Yet another representation of colorful Thailand.


Everything about the Royal Palace was so, um, what's the word, yes ROYAL!!!!

Taking a Tuk-Tuk - a very popular mode of transportation in Bangkok.
River Kwai and Floating Market

Shopping at the Floating Market, we took a long tail boat down the river. Lots of different things to shop for including all types of fruit, handbags (heee), straw hats, and pretty much all kinds of souvenirs. Really fun to experience - a definite must.
Snakes

Yes, my husband is crazy! Heavy, slimy (ok, maybe not), and ready to squeeze the wits out of him, Johann did manage walk out of the Cobra Show alive. Hmm. It was not my suggestion to see it. Hundreds of different kinds of snakes and the show was, UM, a bit wild not to say the least. One guy ended up catching 2 snakes in each of his hands and one WITH his mouth, and these were 4-6 meters long and very poisonous , EEEHhhhhh! See me bolting for the front entrance???
Ayutthaya

Took a bicycling tour of the second capital of Siam - Ayutthaya. So well preserved and the mix between Cambodian and Thai architecture was great to see. So untouched really, massive grounds still uncovered and many in its original condition.


Just another day in Thailand - riding past elephants whom are taking a stroll down the street. Better watch where you are going, because you don't want to get into a traffic jam. Wonder who would get the right-of-way?


At the end of our 35 km bike ride, we relax with a walk of the grounds at the Bang Pa Summer Palace. Lovely gardens, so peaceful and serene as the birds chirp and the Koi fish swimming quietly in the ponds they call home. Perfect ending to a great day!
Out & About

Taking the high speed private long tail boat down the Chao Phraya River in Bangkok, passing by the famous Temple of Dawn (Wat Arun) - once the third capital city before it moved to Bangkok.
---