---
Golden Triangle, Thailand
OCTOBER 22-25, 2009
---
We went on the almost 4 hour bus ride (not the chicken bus, thank goodness, but if it was up to the true adventurer Johann...) from Chiang Mai to Chiang Rai to check into the most exciting part of the trip, The Four Seasons Tented Camp. What a unique resort!!! It truly was an amazing place to visit. We loved every minute of it! Even though there were exotic animals and insects lurking behind every rock. Luckily, my (Sandra's) loud screams echoing across the jungle were avoided by the sheer beauty and serenity, silencing me quite nicely. No snakes, no bites and lots of mosquito repellant. "In the jungle, the mighty jungle, the...sleeps tonight... Aaaweeee, eeehhh, awoombbaawweeaa"
Arriving by boat, we see the tents situated on the hillside - spread out over 1.5 km. Only 15 of them.
The location couldn't be any better. So secluded, embedded in the jungle. We could hear the sounds of the chattering elephants and gecko sounds from far away. Of course the highlight of the trip was the day we spent with our "own" elephants. We got to train, bathe, ride, and feed them. How much fun was that?!!! Up close and personal with these massive, strong, gentle animals.

We also took a side trip to Burma, visited the famous Hall of Opium, sponsored by the King's mother, and enjoyed seeing the heart of the Golden Triangle - also great experiences not to miss if you are in the area. To sum it up, our 4 nights and 5 days at the Tented Camp was a fabulous time! Spectacular service and outstanding personnel.
Four Seasons Tented Camp

Arriving to the Four Seasons Tented Camp via boat. Once we set land, we were asked to pound the round, rather large, brass gong three times and make a total of 3 wishes (all so coming true by the way). Quite the "jungly" welcome greeting.


We received keys to Tent #2 - the Hillside Tribe Tent. Outdoor shower and washroom. An expansive terrace, homes to 2 massage tables, an 8 person sofa, and "cocktail-ready" furniture, with a gorgeous view overlooking the river connecting Burma and Thailand, definitely a different kind of luxury.


Ahh, working is so difficult. Just another day at the office. WI-FI and all! (BTW - Burma is just to the right of the river bank, the actual river is considered Thailand).
* Click here for more Tented Camp Photos *
Mahout Training and Elephants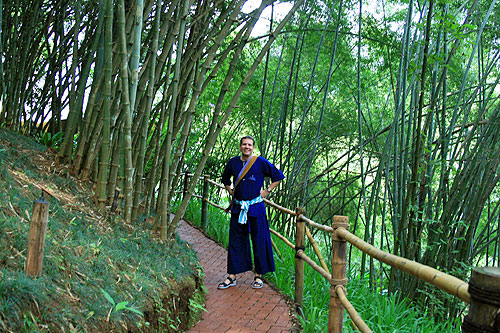 And we are off to our elephant and Mahout training. What do you think about the outfits?

And who says that elephants are not hungry? Only after 350 kilos of bananas and sugar cane EACH DAY. Yikes! Right about 8:30 AM or so, just after we fished our own breakfasts, 2 or 3 lucky elephants were escorted right outside the restaurant so the could be fed by the guests at the tented camp. Loads of fun!


A little bit of rain can't hurt anyone. Yes, that's us, sitting without anything but our "almost" bare bottoms on Thong Kam and Boun Maa's heads, with our knees tucked behind their ears. Ahh, it is a long way down there and one definitely doesn't want to be stepped on!


Before we start our afternoon trek up the mountain, we make a quick stop by the pond to.... HOLD ON, wait just a minute, we're suppose to bathe you, not the other way around. Ahhh, guess if I was completely drenched, soaked and definitely wet? Hopefully Thong Kam's shower was affections of love, otherwise I'd be in trouble.
* Click here for more Elephant Photos *
Burma and Golden Triangle

Snapping a quick photo of Tachileik Shwedagon in Burma, before we release our bird (part of the religious ritual) and pay our respects to our "day-of-the-week" birthday Buddha. Johann's "birth" day was on a Tuesday while mine was on a Friday.


Being blessed by a Buddhist monk; first he chanted a prayer, then he squirted blessed water on us, and lastly he tied on a ribbon on our hands for good luck and a happy life.
---