---
Chiang Mai, Thailand
OCTOBER 19-21, 2009
---
Took a plane from Phitsanulok, had a layover in Bangkok and finally arrived to Chiang Mai (that was one to many stops, but there were no direct flights, so what to do?!). What a beautiful place, so much lush, green trees, palms, and bamboo, truly a nature's paradise. The area has its own complete feel, we both just found ourselves overjoyed to be there - which showed through on our big smiles that lasted the whole time we were in Chiang Mai. We stayed at a cozy boutique hotel downtown, surrounded by jungle plants and different species of orchids. The staff and service was exceptional, especially at the front desk. We enjoyed great dining and actually stayed out "extra" late one evening, listening to live bands at the Riverside. Yay - we're graduating from levels of "not-so-cool" to "hip". Yeah right! Wishful thinking...
During our stay in Chiang Mai, we went white water rafting, visited the night bazaar, and of course did a little bit of shopping. We wish we had more time to spend here but just maybe that gives us a reason to come back and explore some more. After our short stay we were off to Chiang Rai and the Golden Triangle.
White Water Rafting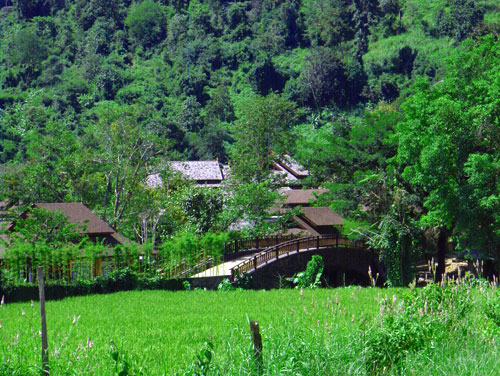 Gorgeous scenery along the way to the white water rafting area,

We are so ready to go down the river, class 4 and 5 - bring it on!

Ahhhh... We are sandwiched between rocks. Luckily we got out of there safely. However, shortly after I slid out of the raft and yes, fell in the water. Crap! There better not be any snakes swimming my way. Rescued and still in one piece back in the raft. Thank goodness! Well, first time for everything, isn't there?! I knew it would happen to me...Grrrr.
Out & About

Back to our oasis in the middle of the city. Very nice place to relax after a water-filled day. Yes please, I'll have one of those lovely exotic looking Margaritas!!!
---