---
Halong Bay, Vietnam
NOVEMBER 8-9, 2009
---
For another couple of days, while in the Hanoi surroundings, we had already planned to take a cruise through Halong Bay - a UNESCO world heritage site. The bay has hundreds of islets mostly made of limestone, making the place a very popular tourist destination.
Spectacular overall scenery and wonderful weather, we had a very nice time but the quality of the junks (wooden boats) were a bit questionable. And we booked one of the more expensive and recommended ones...(Yikes, wonder what the others were like). But oh well, it was only for one night.
Along with enjoying some nice food, we went kayaking, marveled at the view, and also visited a few caves, but didn't have too much more time to explore. We recommend spending 2 nights here as it is an almost a 4 hour drive from Hanoi, which definitely adds up - just be careful what company you choose to go with.
Except for a few of the details, it was well worth the trip because of its unique scenery (although the immense garbage spread around the waters didn't add to splendor of the experience, let's stop the comments here), but that aside, the bay is definitely something you don't see every day and is located in a very special setting. Definitely worth it to see!
'Halong Bay Junk



Cruising Halong Bay aboard this junk, the Pinta Gold, for 2 days and 1 night.
There must be a few hundred of these junks in the harbor.
Hope there are life vests onboard this thing...!
The Journey Begins...

Lounging on one of the sun chairs with a glass of wine, snapping some photos,
and about to enjoy the sunset.

People chilling out on the upstairs deck - we did meet an English couple during our
excursion and shared some great laughs partnered with a few drinks, which was perfect
especially as it "somewhat" helped us avoid seeing the many rats living onboard
(they became very visible around midnight - eeeek!!). We heard them running around
above our heads all night long too, yuck!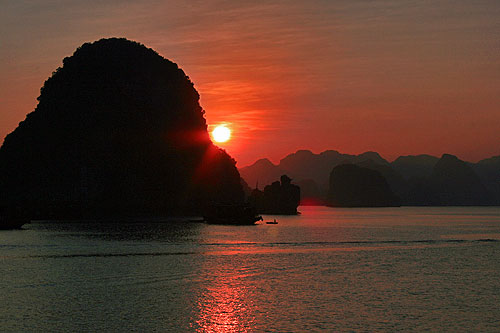 And the sun sets over the beautiful scenery in Halong Bay. Ahh, how romantic!

It's our 14th anniversary, and we dine at a private table for two on the front of
our junk to celebrate!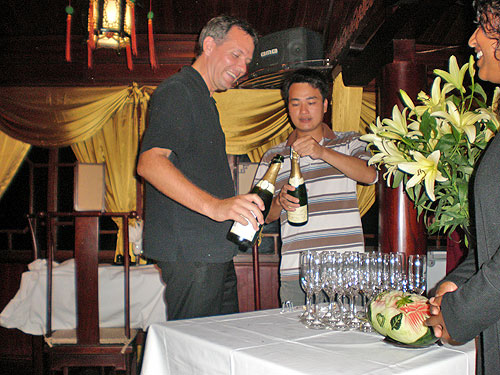 Afterward, it's champagne for everyone on the house! The celebration continued
well into the wee hours of the morning until it was just us and the rats left!

The next morning, we are off sailing again, making a quick photo stop
with a wonderful view of this very spectacular gift from nature.

Johann admires the formations in this well lit up cave.

Touring the area in a kayak. Some places were very nice, others were infested by garbage.
Why do people dump garbage, especially where there are big tourist $$ to be made,
just can't quite figure this one out. Government, tourism, environmental lobbyists ???
---