---
Saigon, Vietnam
NOVEMBER 18-21, 2009
---
Ho Chi Min City or Saigon (depending on who you ask) is a very densely populated city. Cars and mopeds swishing by on narrow, one-way streets. Like many other cities and areas in Vietnam, Saigon also has a large past involving the influence and destruction of several wars, everything from being a Khmer territory and occupied by the French, to the "liberation" or "fall" of Saigon during the Vietnam/American war.

We took one day to explore and walk around to see the sights of the city. On a different day, we had arranged for a private guide and driver to take us out to the Cao Dai Temple (where Buddhism meets Christianity) and Cu Chi tunnels, both places very interesting to visit. Of course the tunnel systems were just incredible and yet very saddening at the same time.
We also visited the War Remnants Museum, formerly called the American War Crimes Museum, which is a must if stopping in Ho Chi Min city (if you don't mind a bit of propoganda). But just keep in mind that the whole experience will have an impact on your emotions, regardless if you are American, Vietnamese, or any citizen of the world really. It's quite unbelievable what history reveals and tells us, but will we as humans ever learn? So many wars, genocides and extremes in this world, yet we continue to subject each other to these horrid moments and unimaginative lives, it very much is quite offensive what power, greed and no regard for others can do to us!...
'Downtown Saigon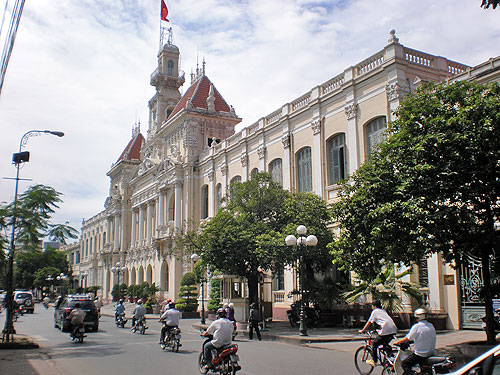 Saigon is still a grand city today, you would never know of its wartime past by
looking at it. Motorbikes abound, traffic is crazy, many beautiful areas though.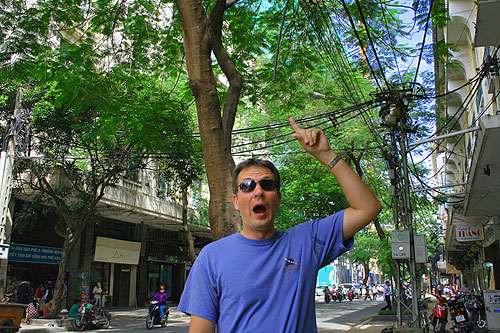 It is not very safe to be tall in Saigon - Honey, you better watch out!!!

What would the Western world think of this? And this was more conservative,
generally we saw at least 3 small kids to a motorbike (all without helmets btw).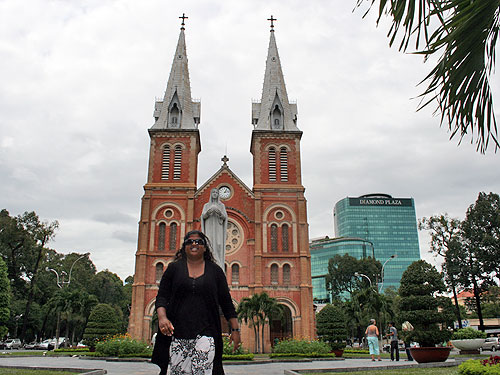 Sandra leaving the Notre Dame Cathedral. The hunchback was not home.
Dinner Cruise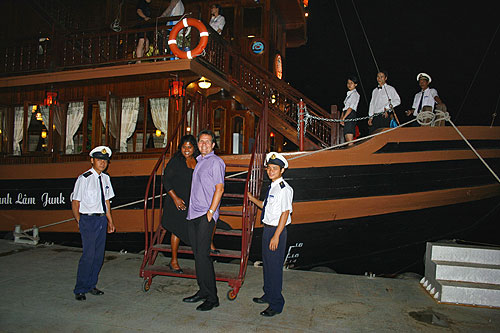 Going for traditional Vietnamese dinner and live entertainment,
cruising down the Saigon River.

This was one of the Chinese junks - can you see the masses of people?!
American War Crimes Museum

An outside look of the American War Crimes Museum.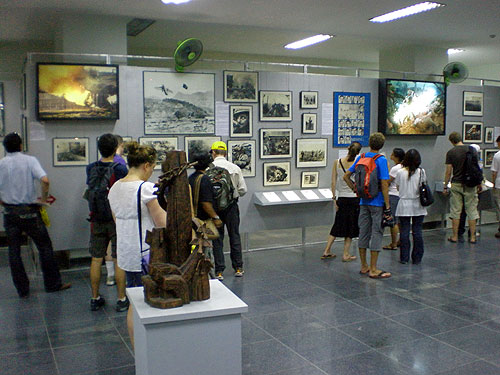 Walking through this museum sure sends cold chills down ones spine. Regardless
of the side you were on, the atrocities of war are absolutely shocking and appalling.
Cao Dai Temple

The Cao Dai Temple in Tay Ninh, the holiest structure in the Cao Dai religion.

Attending a service at the Cao Dai Temple. A very unique place with its own
special brand of religion - kind of like a cult really.
Cu Chi Tunnels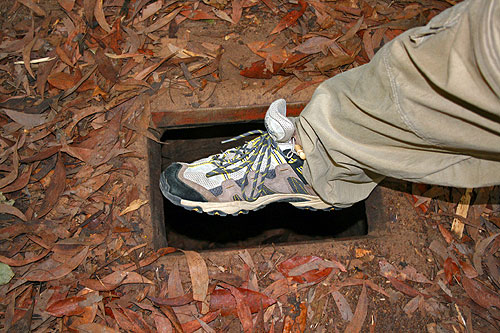 A visit to the famous Cu Chi tunnels, where the Vietnamese (Viet Cong) planned, hid, and lived underground from the Americans. This is an example of one entrance - how did they fit?!?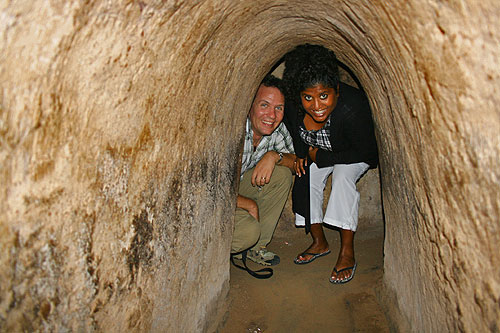 It was a tight squeeze, a few moments later my Claustrophobia kicked in. Amazing
that these underground tunnels and chambers stretched for over 250 KM
from Saigon to the Cambodian border.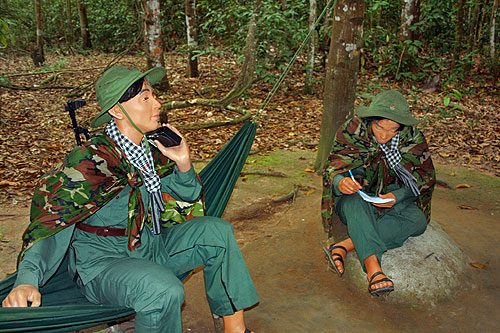 Staging examples were set up around the area to give you an
idea of how people worked, lived, and protected themselves, everything from
death traps to how the Vietnamese (Viet Cong) made shoes and weapons.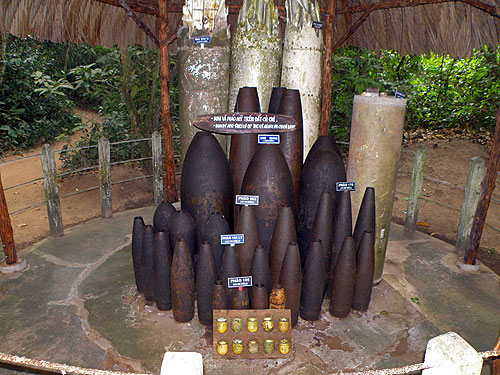 Nothing was left unused. Whenever there were opportunities to recycle things like "dead"
missiles/bullets recovered on the ground, these were taken advantage of.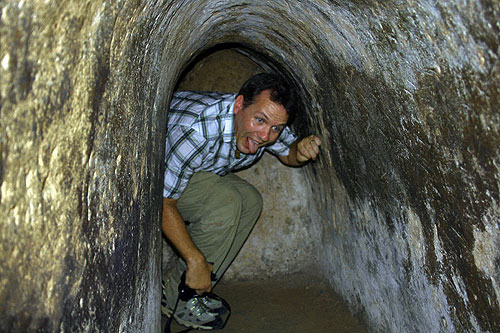 Johann was a tad too tall for these tunnels, came out with a half broken back poor thing.
---