---
Siem Reap, Cambodia
NOVEMBER 24-26, 2009
---
A bit tired, but not too bad after our 3 day bike trip through the Mekong Delta, we took a flight over to Siem Reap in Cambodia. The city of Siem Reap is highly touristy, with lots of shops and restaurants, most likely of course due to its biggest tourist attraction - Angkor Wat, one of the Wonders of the World. Really, most people who visit Siem Reap are generally coming to see the ruins, and not necessarily the city, But for people who plans to visit Siem Reap may actually be surprised as they are building and expanding the city to make it a nice place to stay while visiting the temples of Angkor.

Angkor Wat was built in the early 12th century by Suryavaram II, honoring the symbolic representation of Hinduism and the God Vishnu. It took almost 4 centuries to complete the entire area, and several Khmer kings later. The temples of Angkor are truly stunning, magnificent pieces of architecture. You see it on photos, however it is so much more impressive in reality, Such remarkable details, such a surreal place. We also took a big balloon up to view the ruins from up above - very exciting perspective! Angkor Wat should be on anyone's list who is visiting Cambodia. Loss of words on this one (and that doesn't happen that often...)!

'Temples of Angkor Wat

The temples of Angkor Wat are absolutely stunning! These are almost 900 years old. WOW!

I think this was my favorite temple - Banteay Srei,
the details and carvings of are absolutely marvelous.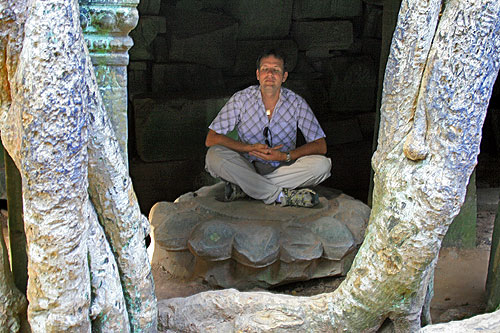 Johann showing off his meditation skills on an ancient lotus flower.

Check out these spectacular stone heads, reaching high up in the sky.

We decided to take a very early balloon ride (we had to get up at 4:30am or so, ouch!)
in hopes to get a different perspective of these massive archeological ruins.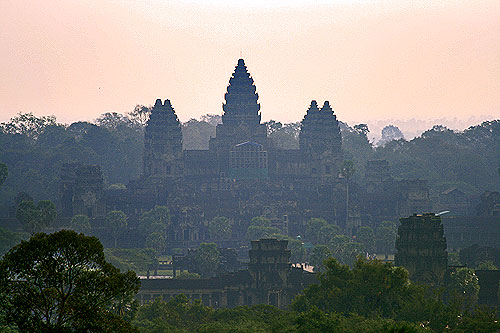 This photo was taken using the zoom lens as we really were not that close to the temple.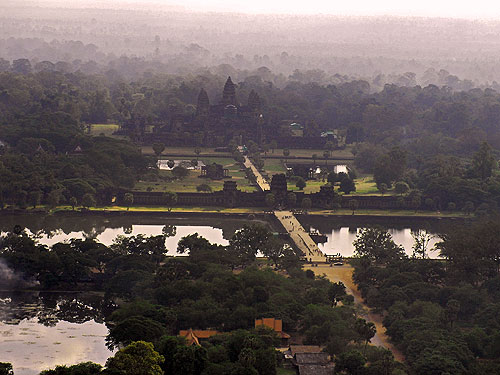 A different view indeed, a quite magnificent one that is.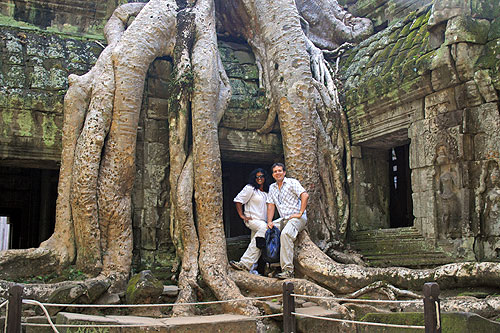 Take a look at those tree roots - they were huge at least when comparing to the two of us.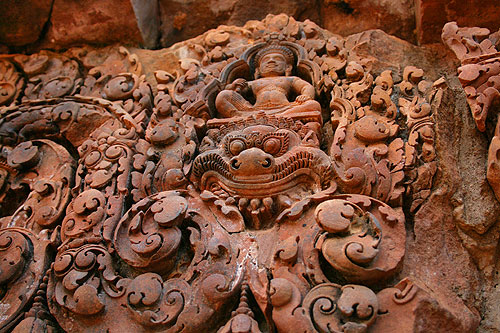 WoW! This carving just blows me away!

These temples are just so incredible and massive...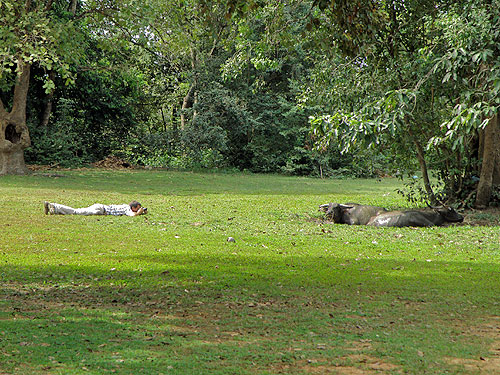 Uhh, hubby, do you know that water buffalos don't have the greatest reputation
when it comes to friendliness???...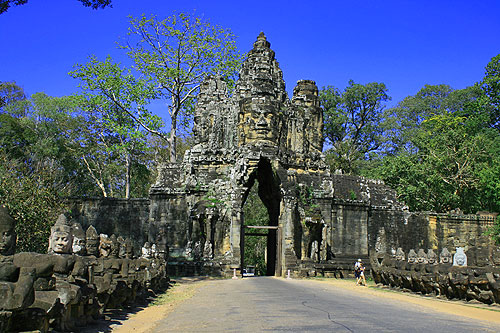 It's amazing that these ruins are still standing today, Look at the
craftsmanship of this entrance.

Johann taking a break - we only walked for about 8-9 hours straight for 3 consecutive days.
And our guide had a PhD. in history and archeology, specializing of course
in the Temples of Angkor Wat. We can definitely say that we learned quite a bit.
Now to remember all of these new wisdoms, well that's a different matter...
---