---
Xi'an, China
SEPTEMBER 13-15, 2009
---
Taking a flight over to Xi'an from Beijing's modern, quiet fashionable airport. Not too much to say about Xi'an, except that the city is enormous and not very "cheery", oh and the airport is really not worth to mention whatsoever. Quite the difference between updated, Olympic city Beijing and dark, filled-with-construction Xi'an. But since we were there mostly there to see the Terra Cotta Warriors - who were just discovered in the 1970's, and were undiscovered since 2000 years back, it really didn't bother us that much.

What a sight to see and the historical importance of such archeological find is difficult to describe in words. WOW! We don't regret our trip to see the Warriors - the site was just amazing! It was worth the trip even though Xi'an is left to be desired - ok to give some credit, perhaps the city itself will be a little different in a few years since all of the construction that's going on, so we shouldn't be too negative... Who know what the future has in store for Xi'an? Only time will tell.
Terra Cotta Warriors

Totally amazing! Can you believe that these are 2000 years old? Of course
most have been have been put back together, what an archeological job by the way!
They are still looking for more. But so far over 10,000 warriors have been found!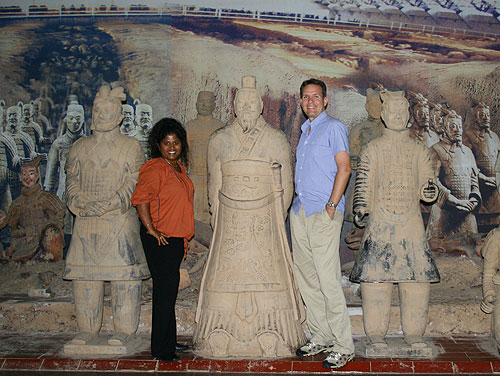 Nothing like taking your photo beside ancient greatness!

The warriors being protected from the outside environs. This is how they originally
were lined up - defending the mighty emperor.
Bell and Drum Tower

An evening stroll around the "tourist" area of the city. This bell tower is actually very neat as it resides in a highly trafficked roundabout.


Chinese music playing, children cooling off in the fountain, and couples holding hands strolling through the flower filled park, this was a very nice part of Xi'an.

Out & About


Having Xian's famous dumplings. Each dumpling dish was presented in many different shapes and figures. Can you see the monkey? Or perhaps the lotus flower? Think we had about 10 different uniquely presented dumplings.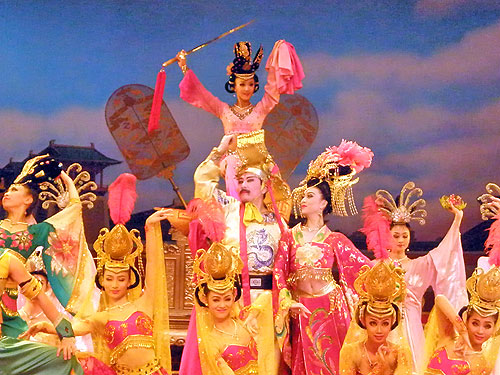 We went to see the Tang Dynasty Evening Show. Was really fun
to watch and the costumes were fabulous!
---