---
Hue, Vietnam
NOVEMBER 9-11, 2009
---
We took a quick flight from Hanoi to Hue, well known for its French influenced architecture and monuments. We stayed in the middle of backpacker land. Lots of small restaurants and quaint boutique hotels. We weren't too impressed by the city itself, however the importance of the city's past was very interesting to learn about.
We took a tour around the city, a boat ride down the Huong "Perfume" river, a visit to the Hue Citadel and Tein Mu Pagoda, and drove up to the impressing Khai Dinh Tomb, supremely well preserved. Khai Dinh was the 12th Emperor of the Nguyen Dynasty and was fairly unpopular with the Vietnamese people due to his ties with the French government.
Had yet another couple of great food moments, but that was about it. Hue was not one of my (Sandra) favorite places to visit in Vietnam, let's just say that... It didn't offer much more than the few monuments and the city itself could have definitely been much more "tended" to. Perhaps Hoi An would be a better experience...
'Out & About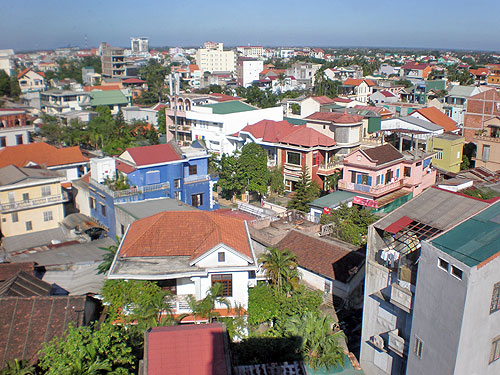 A view of Hue from our hotel room.

Life in Hue still centers around the Huong River. Here two villagers float by the City Hall
in their dugout canoe. Our boat tour on a dragon boat was fun, except the tour guide
was pitching us souvenirs the entire time, quite annoying. He even had us talk to his
mom on the phone to hear why we should buy them!



Very nice looking Tein Mu Pagoda, the weather couldn't have been better - it was gorgeous.



Johann and I posing in front of a dragon guard - that's what we call security!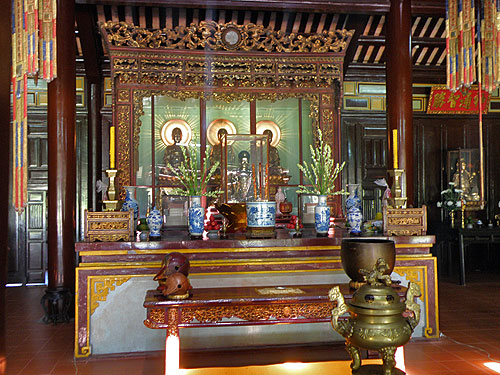 It is amazing how people around the world worship and honor the heroes before them.
It brings such pride by the citizens who represent the future..



Climbing up the 12th Emperor's tomb, not too shabby of a place to find rest.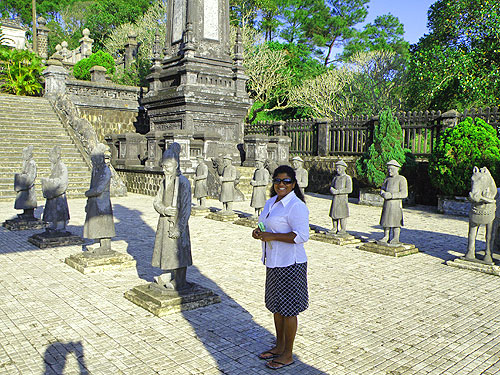 Lots of statues lining up as protectors right in the entrance of the Emperor's
tomb - think I could fit in as a protector, don't you?!...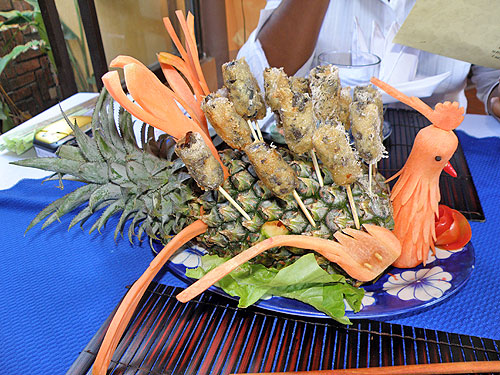 This restaurant really went over the top with their Vietnamese food art - pretty cool!
---