---
Lijiang, China
SEPTEMBER 24-26, 2009
---
After Kunming, we head further south to Lijiang. Wow, this really was a place in rural China. Lijiang is famous for being one of the most ancient cities in China. It's very much a tourist place, although it doesn't feel like it.

Lots of people walking down the streets and stopping at the open aired shops, farmers in triangular bask hats, endless fields, rolling hills and the list goes on - a complete different "look" than what we had experienced in China so far. It really felt like we were coming to the "real China".

We stayed at a beautiful resort, embedded deeply in mountains and away from any cars or people. It was so nice and peaceful. We had fresh flowers in the room (lovely flower arrangements) and fresh fruit every day. Very quiet - and was so relaxing. We loved it - although English was not on the forefront of people's palate. But, hey if you visit another country with a different mother tongue, what else can you expect?! So we didn't mind too much, although at times it was a little frustrating... especially when Johann was attempting to order a tonic water with lime and nobody had a clue of what he was wanting (and we even showed the word "tonic water" on the menu in Chinese and goggled a picture of a lime). Hmm, perhaps we were asking too much? Anyways, we really enjoyed Lijiang and it is a place we both would love to visit again - so peaceful and very enjoyable.
Lijiang Old Town

This photo is taken outside a cozy bar that we had a few drinks at and listened to some really romantic, live music, performed by two young musicians. Ahh, it was so nice and we were also able to have vodka & gin and tonics. Not only TsingTao or Tea. Yay!


Who says children can't be wonderful and take care of themselves when mommy goes shopping?!!! Hmm. Wonder if this is in any of the parenting books (smile).

Taking a stroll in Old Town. So many different cafes, restaurants and bars.
Just a really nice relaxing way to spend an afternoon.

Lovely view at night as all of the houses on the hill were lit up and music
streaming out over the main square. Touristy but not really!
Black Dragon Pond Park

This is one of the most beautiful parks we saw while we were in China. So peaceful and you can just sit for hours, watching the leaves sway to the wind, hear the sound of the small ripples on the lake, and arrive to a place where the world stands still. Absolutely stunning! And, if it wasn't cloudy when we took this photo, you could also see Jade Dragon Snow Mountain in the backdrop. WOW!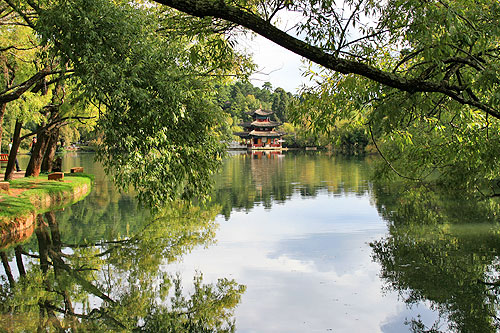 True beauty is hard to find nowadays. Memories from this park with live with us forever.
Horseback Riding, Lashi Lake & Tiger Leaping Gorge

Johann is feeding the horses cashew nuts. Yes, spoiled. But we figured it was best to feed them as we still needed to get down. We just had climbed a tall hillside, very muddy and the poor horses kept on sliding...Some extra energy was definitely a good choice. We made it back without rollovers or being thrown off. Success!

Relaxing while taking a boat tour in the "swamps". What a made up tourist attraction!

Can you see what meat we had to choose from? Look real close in the background.
This is how we picked out our food that we were going to feast on for lunch.
Although, not appetizing, the flavor of most of the dishes were very nice.
Lots of spices to kill of the bacteria we presume. We said "if we don't get sick
from eating here, then we are good to go for the rest of our trip in China".
And guess what, we didn't have any "problems" from that day on.

Taking a inflatable rubber boat through the first bend of the Yangtze River (3rd largest river in the world). It being rainy season made the water brown and the water levels high, so that was too bad (effected visual scenery and speed of the boat), otherwise had an exiting time, as you probably can see by the looks from Johann's face.


Taking a short 1 hour hike through Tiger's Leaping Gorge, Wonderful scenery, reminding us a lot about the gorge in WA and Oregon. Ahh, that brings back many good memories.
---