---
Four Seasons Tented Camp, Thailand
OCTOBER 22-25, 2009
---
More Tented Camp Photos...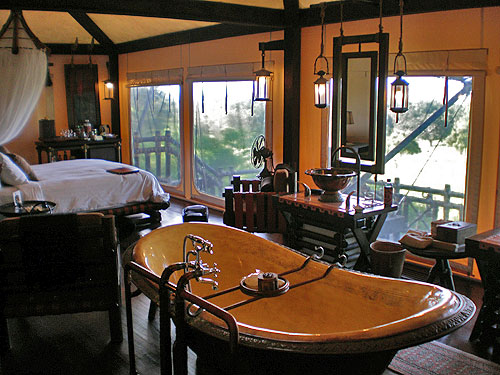 This is the kind of camping that I'm talking about!

Absolutely gorgeous orchids around the "campground" (if you haven't noticed yet, I love snapping photos of flowers, especially my favorites).


Nightly sundowners at the Burma Bar (about 1 km away from our tent, but well worth the stroll). How more romantic can it get? Lightly sipping your favorite cocktail (the drink special of the Burma Bar was most certainly the "Opium" drink - quite intoxicating), while watching the sun gently set over the hills and lush jungles of Thailand and Burma. Ahh, now that's called romance!!!


Speaking of romance... Anybody knows this fellow? That's right, A very frightened Indiana Jones. Or maybe he is just screaming at me to hurry along as drinks at the Burma bar awaits?!


There's also a small wine cellar at the Camp. This one particular evening when we decided see what it was all about, it just happened to be Johann and I and no other guests there to partake in the evening's wine tasting. So yes, we had the place to ourselves, of course a staff member was there to facilitate the pouring, until she had to leave us by ourselves...NOT A GOOD CHOICE!

Bad idea INDEED! I am sorry to inform you, but yes, your eyes are not deceiving you.

Now that's what I call a romantic dinner date!! Note to self, LESS wine before dinner. Hmm... That's my husband alright! (Okay, just officially have to set the record straight, these photos above are somewhat fabricated, so please do not believe everything that you see...just in case...heheheh)
---